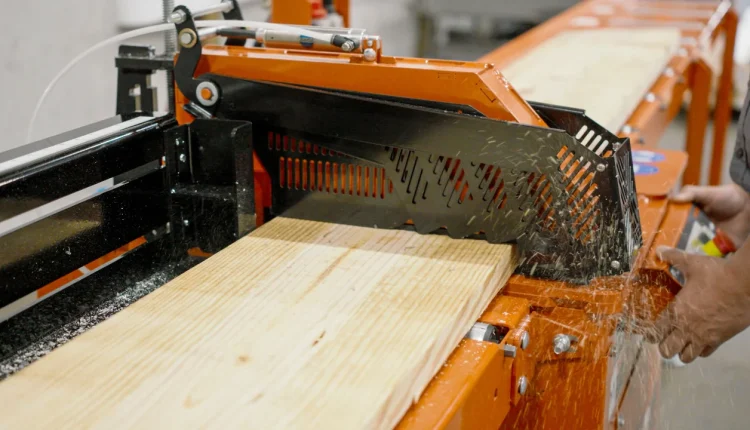 Wood-Mizer Introduces PC100 Upcut Saw for Efficient Crosscutting of Boards
Wood-Mizer, a renowned manufacturer of woodworking equipment, is proud to unveil the PC100 Upcut Saw, designed for precise cross-cutting of boards ranging from 1″ x 13″ up to 4″ x 9″. This powerful and reliable machine is equipped with features that cater to the needs of sawmillers, woodworkers, and pallet manufacturers, making it a valuable addition to any production line.
Versatile Cutting Capabilities:
The PC100 Upcut Saw boasts impressive cutting capacities, handling materials from 1″ x 13″ to 4″ x 9″. With maximum cutting lengths varying based on optional infeed and outfeed tables (available separately), this machine offers flexibility and efficiency in processing various wood materials.
Swift and Efficient Operations:
Featuring an 18″ diameter x 1″ bore nail-resistant carbide-tipped circular saw blade, the PC100 can execute up to 20 cut cycles per minute. The upcut saw blade is safely housed inside the machine until activated, ensuring smooth and continuous cutting operations.
Left or Right-Side Blade Placement:
The PC100 provides the option to choose between left or right-side blade placement, allowing operators to optimize material flow and streamline production processes.
Convenient Center Material Loading with Unique Blade Guard:
One of the standout features of the PC100 is its uniquely designed segmented blade guard. This guard covers the front and sides of the blade during the cutting cycle, facilitating longer material loading from the center of the saw. In comparison, traditional upcut saws with mounted blade guards only permit material loading from the left or right side, making it more challenging and time-consuming to process longer materials.
Powerful Electric Motor:
The PC100 is powered by a robust 10HP (7.5kW) electric motor, available in 240V and 480V 3-phase or 220V 1-phase connections. This efficient motor ensures reliable and consistent performance.
User-Friendly Control Panel:
Equipped with a centralized control panel, the PC100 offers convenient on/off controls for the blade, cutting cycle, and emergency stop for enhanced safety. The two-hand non-tie-down activated cutting cycle provides additional safety measures.
Additional Features:
The PC100 Upcut Saw comes with optional infeed/outfeed tables and an optional gang stop to further enhance its versatility and adaptability to different woodworking needs.
Wood-Mizer's PC100 Upcut Saw combines cutting-edge technology, precision engineering, and robust construction to deliver an upcut saw that woodworking businesses can rely on. With its exceptional performance, ease of use, and reliable cutting capabilities, the PC100 is set to revolutionize the crosscutting process for professionals in the industry. Whether you are a seasoned sawmiller, a skilled woodworker, or a pallet manufacturer, the PC100 Upcut Saw is a powerful tool that will elevate your woodworking operations to new heights.