Wood-Mizer Announces 2023 My Project Contest Winners
Wood-Mizer announces winners of their 2023 My Wood-Mizer Project Contest – a tradition since 1985 that recognizes Wood-Mizer portable sawmill owners who have built dream woodworking projects by sawing their own lumber.
The contest is open to any Wood-Mizer portable sawmill or woodworking equipment owner in North America interested in competing for their share of $25,000 in prize credits awarded to first, second, and third place winners in each of ten categories including Homes, Small Homes, Barns, Small Barns, Interior, Exterior, Furniture, Unique & Unusual, For the Good of Others, and People's Choice. The public was invited to vote online for their favorite projects during the two-month contest to determine the People's Choice Award winners.
With more than 200 projects entered and tens of thousands of online votes, the 2023 Project Contest was a huge success.  "Every year, we continue to be amazed by the creativity and craftsmanship of Wood-Mizer sawmill owners all over the world," said John Smith, Wood-Mizer CEO. "Congratulations to every sawyer who has accomplished their dream of building a project or business with a Wood-Mizer."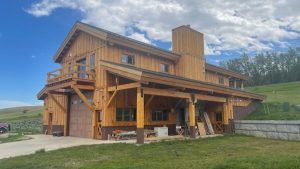 For the Homes and Major Structures category, Tim Kirk from Montana received 1st place for his 5,000+ square foot multi-purpose workshop. "I needed additional shop and garage space and I love log and timber structures. Over 400 timber members were sawn on my Wood-Mizer LT40 Super Hydraulic sawmill," said Tim.
Blake Loree from Texas received 1st place in the Small Homes and Cabins category for his Windsor Chair studio, equipped with a loft and living space. "I used a Wood-Mizer LT40 sawmill along with an EG200 edger to mill over 20,000 board feet of premium southern yellow pine for this building. Both of these pieces of equipment cut beautifully and saved an enormous amount of money versus buying lumber already cut," said Blake.
Sebastian Lombardo's "Hideaway Farm Barn" was an astonishing 7,500 square foot project, earning him 1st place in the Large Barns and Garages category. "I enjoy my Wood-Mizer LT35 Hydraulic sawmill as I love to cut wood. With the hydraulic controls and a 12' bed extension, I can run the mill by myself and cut huge logs. I used the mill for the barn project and cut hundreds of logs, the logs that I milled came from developed land of new home construction sites. These logs are typically chipped up and used in a power plant, firewood, or for mulch. I put them to better use," said Sebastian.
"I purchased my first mill last year, an LT15WIDE with auto feed and the trailer package. All the features and functionality have been great. Even for the hobbyist, I can't imagine milling all this wood without the auto feed, well worth the money," said 1st place winner in the Small Barns and Sheds category, Doug Palladino from Oregon.
The cedar table and bench set were created by Grant Boiser from Florida, 1st place winner in the Furniture category. "All of the wood used for this project was cut using my LT40 sawmill. I cut the logs, resawed the boards, cut the stumps to height, and then cut the benches to their final height once assembled," said Grant.
Saving more than $10,000 on his farmhouse renovation, Cory Hill from Pennsylvania took home 1st place in the Interior Projects category. "I used my Wood-Mizer LT40 Super Hydraulic to cut the wood for this project. The Wood-Mizer allowed me to cut the wood to my desired specs for making the flooring, trim, and paneling," said Cory.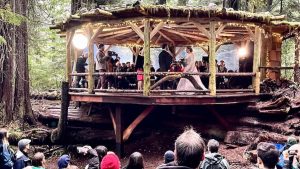 Wood-Mizer LT40 portable sawmill owner Hugo Chartier from British Columbia was awarded 1st place in the Exterior Projects category for his round house project. "It is a 30-foot diameter round platform with reciprocal log gazebo in the middle of an old growth forest. This place is out of this world! I had my wedding in the structure," said Hugo.
"It started as a conversation on a first date. It ended with a unique yoga studio and a marriage proposal. We built a timber framed 192-square-foot yoga studio from locally sourced standing dead timber. All of the trees for the project came from a local forestry project 25 minutes away. All of the timbers as well as the floors were burnt and brushed for looks and function. Jillayne learned to operate the LT15 sawmill completely on her own. She also learned how to cut joinery and raise a timber frame. I learned a lot more about yoga," said Parker Dunbar from Colorado and 1st place winner in the For the Good of Others category.
The Trinity Knot Chapel by Wood-Mizer LT40 portable sawmill owner Jon Scott from New York, won 1st place in the Unique and Unusual category. "The Trinity Knot Chapel wouldn't exist were it not for the Wood-Mizer. I milled the lumber for my friends and farm owners Bill Miskimen and his wife, Amy Finnegan. The structure incorporates exposed cherry post-and-beam construction, plus antique glass windows reclaimed from the Tiffany Estate in Greenwich, CT and a brass bell, cast in 1820 in Troy, NY and obtained from a bell restorer in Michigan," said Jon.
Receiving more than 1,000 public votes online for his outdoor shower project, John McKay from Pennsylvania won 1st place in the People's Choice category. "For years I would take my lumber to a nearby mill to be sawn for my building projects. With grown children, I had the expendable income to buy a mill. I wish I'd done it twenty years sooner," said John.
All projects from the 2023 contest are showcased in the Wood-Mizer Project Gallery online at project.woodmizer.ca.
2023 My Wood-Mizer Project Contest Winners
| | |
| --- | --- |
| Homes & Major Structures | Small Homes & Cabins |
| First Place: Tim Kirk– Red Lodge, Montana | First Place: Blake Loree – Waco, Texas |
| Second Place: Andrew Ross – New Brunswick, Canada | Second Place: Dennis Raymond – Glen Spey, New York |
| Third Place Tie: Derek Byers – Camano, Wyoming | Third Place: Jan Kronke – Eugene, Oregon |
| Third Place Tie: Jason Hooft – Prince George, British Columbia | |
| | |
| | |
| --- | --- |
| Large Barns & Garages | Small Barns & Sheds |
| First Place: Sebastian Lombardo – Leonard, Michigan | First Place: Doug Palladino – Silverton, Oregon |
| Second Place: Andrew Worcester – East Wallingford, Vermont | Second Place: Russell Jacobs – York, Pennsylvania |
| Third Place: Derjamin Roark – Cold Brook, New York | Third Place Tie: Joseph Scolastico – Duxbury, Massachusetts |
| | Third Place Tie: Toni Toth – Chugiak, Alaska |
| | |
| --- | --- |
| Interior Projects | Exterior Projects |
| First Place: Cory Hill – Lehighton, Pennsylvania | First Place: Hugo Chartier – Ucluelet, British Columbia |
| Second Place: Stephen Antony – Hackensack, Minnesota | Second Place: Zach Beyer – Arnold, Missouri |
| Third Place: Jeffrey Grimm – Fremont, ZAA | Third Place: Mike Ciesiensky – Hammond, Louisiana |
| | |
| | |
| --- | --- |
| For the Good of Others | Unique & Unusual |
| First Place: Parker Dunbar – Salida, Colorado | First Place: Jon Scott – Briarcliff Manor, New York |
| Second Place: James Brink – Anderson, California | Second Place: Joshua Swan – Washburn, Wisconsin |
| Third Place Tie: Beau Servo – Kalispell, Montana | Third Place: Peter Campbell – Ridgefield, Connecticut |
| Third Place Tie: Keith Kelley – Newport, Maine | |
| | |
| --- | --- |
| People's Choice Award | Furniture |
| John McKay – Lackawaxen, Pennsylvania | Grant Boiser– Alachua, Florida |
| Cory Loveland – Elk City, Idaho | David Hillesland – Mehama, Oregon |
| James Surles – Bronson, Florida | Bob Brown – Logansport, Indiana |
| | |
About Wood-Mizer
Since 1982, Wood-Mizer has earned the reputation as a global-leading sawmill and woodworking equipment manufacturer with a strong legacy from its innovative sawmilling products. From Forest to Final Form®, Wood-Mizer offers an extensive line of equipment including portable and industrial sawmills, resaws, board edgers, wood kilns, planer/moulders, firewood processing equipment, pallet recycling equipment, material handling equipment, sawmill blades, and blade maintenance equipment. For more than 40 years, Wood-Mizer remains committed to serving sawmilling and woodworking hobbyists and professionals all over the world throughout an established and growing distribution network. Visit woodmizer.com for more information.