Wood Jerseys: Hitting Its Stride
In the arena of Canadian woodworking, Tiff Polancec and Ryan Moir have found their zone. As founders and owners of Wood Jerseys, the entrepreneurial pair have turned their passion for hockey into a business specializing in the production of laser-cut, wood sports jerseys for fans around the world.
"It started with me in my one-car garage trying to think of ways to make some money during COVID," Polancec says. "I was a hobby-level woodworker with a CNC machine that I picked up from my family's machine shop, and I just wanted to make something."
Inspiration struck when Polancec's girlfriend gifted him a vintage keychain sporting a metallic Calgary Flames jersey.
"In product development, one of the mantras is to play with scale; make it bigger or make it smaller, but redevelop it for a new purpose or audience," Polancec notes. "So, when I got that keychain, I started thinking that if I could make this jersey bigger, it could make for really cool wall art."
Putting concept to practice, Polancec fired up his CNC machine to create his prototype, a Calgary Flames jersey made from ¾ inch plywood.
It was a design idea with career potential, but without the blessing of the NHL, Polancec knew it would only be a matter of time before his small business would be benched. That's when he reached out to Ryan Moir, a longtime friend with over 14 years in sports broadcasting who could begin making licensing connections.
"When Tiff came to me with the first version of [the wood jersey], I was an immediate fan," Moir recalls. "It was such a cool idea. Even though it was a prototype and we've improved on the design a lot since then, it was incredible, and I knew he was on to something."
Moir was quick to pass the prototype along to his connections at Sportsnet, who flipped it up to the right people at NHL. It didn't take long for Moir and Polancec to catch the league's interest, and after a nearly six-month-long legal process, the duo received licensing approval.
"Getting that initial approval was the hardest step in the beginning, but [the NHL] recognized the potential and we got the green stamp. Then it was time to get started," notes Moir.
Making their debut
It didn't take long after for Wood Jersey to find its footing. Soon after getting the go-ahead from the NHL to replicate its jerseys, Moir and Polancec began honing in on their designs and focusing on how to make an impression in a crowded sports memorabilia market.
"Getting the product right was our first focus," says Moir. "And that's a good piece of advice for any aspiring business owner: pick your niche and spend a lot of time in the product development stage creating a product that will bring something unique to the table. Once you do that, you get your foot in the door and can start putting your full weight into it."
With its own skate in the door, Wood Jersey began to grow. In October 2021, the business moved to a dedicated workshop in De Winton, Calgary, hired a modest part-time team, and began to expand its product line to include jerseys from all 32 teams. More importantly, it invested in a Trotec Speedy 400 laser cutter so the team could achieve ten times the number of details in each jersey design, which was now being produced using ¼-inch maple veneer wood with an MDF core.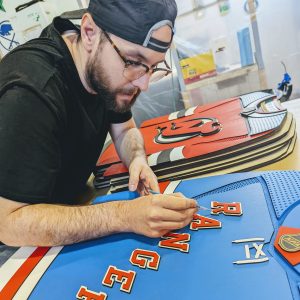 "Once we moved to the laser, it was like everything we'd done up until then was wiped clean, and we had to redesign all our jerseys from scratch," Moir recalls. "We had to redesign everything. Much of that time was spent going back into the design process, figuring out efficiencies, seeing what we could do better, and learning how we could blow this whole idea up."
Drawing a crowd
At last count, Wood Jerseys had shipped over 2,000 jerseys internationally, fulfilling orders across Canada, virtually every US state, and for fans as far as Switzerland. Their customers include celebrities, sports personalities, and current and former NHL players and hockey personalities across the league.
It's hard to pick a favourite, says Polancec, but one of the most memorable projects Wood Jerseys has worked on was for Canadian hockey legend Willie O'Ree, a former winger for the Boston Bruins and the first African American NHL Player. The Boston Bruins were retiring his #22 jersey and they asked Wood Jerseys to make a replica for the celebration: "This was probably one of the coolest things we've worked on. The interesting part was he actually didn't own a jersey from when he played because he gave it all to the Hockey Hall of Fame."
"It's pretty amazing what [Willie] did for the league in terms of diversity," he continues. "So, to do the research, find out what his favourite jersey looked like back in the day, and then recreate his old jersey so he could have it on his wall was pretty special."
Navigating obstacles 
Launching a woodworking business is always a risky play. And while business has been steady for Wood Jerseys, the team has contended with its share of obstacles.
For one, says Polancec, "When we started during COVID, there was a spike in terms of wood material costs and labour had gone through the roof. That was no small problem and still isn't."
Shipping remains one of the largest barriers to Wood Jerseys' growth. Sending the sizeable wood jerseys via Canada's high shipping rates is no small expense, but the team hopes to offset these costs by increasing its volume as orders pick up.
Building a brand on a modest marketing budget has also proven tricky. To that end, Wood Jerseys has focused on building a strong following through its website (www.woodjerseys.com) and social media channels like TikTok, Instagram, Facebook, and Twitter (@WoodJerseys). One of its most successful marketing initiatives, for example, was an organic TikTok post that reached 500,000 views in a matter of days, attracted 15,000 followers, and resulted in Wood Jerseys selling out of stock.
These viral successes notwithstanding, Polancec says that rising platform rates and pay-to-play barriers make it increasingly difficult for small businesses to get noticed.
"The challenges haven't been small, and we've gone through some big world changes, which is why I'm really proud of ourselves for being able to fight through and keep going," adds Polancec.
Momentum is building for Wood Jerseys. As for what comes next, the team hopes to get its products into the hands of more influential customers and continue building its brand. At the same time, the business has started adding sports signs and wood jersey paint kits to its offerings and hopes to begin creating wood jerseys for other sports leagues.
"Our long-term vision of this is to build a foundation on which can expand into all the major leagues and player associations and maybe offer more variety in terms of fun Jersey options," Moir offers. "We have a lot of directions we can go in, and the main idea is to have our products be a fixture in the fancave world."
Matt Bradford is a writer, editor, and longtime contributor at MediaEdge's Wood Industry e-digest and magazine. He has spent years reporting on the wood and construction industries and values the opportunity to provide insights into the secondary wood manufacturing community's successes, challenges, and opportunities.