Turning unused spaces into workable storage solutions
Häfele
Wall-mounted organizers:
The company created the TAG by Häfele Symphony wall organizer to make up for the minimal closet space – when there is any – in many homes, whether it's small one-bedroom condos or an older-style houses. The product is a low-profile set of mountable bars to hang accessories on, as well as hats, belts, shoes and purses.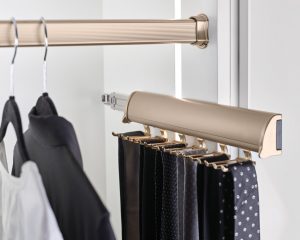 Hanging systems:
Synergy collection TAG by Häfele is a system of specially designed hooks for different hard-to-store closet items. Häfele makes scarf racks, tie racks, belt racks and valets, which all pull out from the closet for easy access.