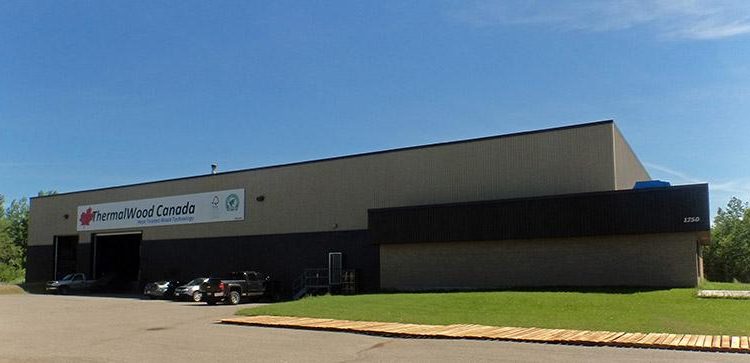 ThermalWood Canada Touts Builders' Show as Networking Success
New Brunswick's economy used to rely on fishing, mining, and forestry sectors. Now, the province has seen a dramatic shift towards the service sector. More entrepreneurs in New Brunswick want to establish their own businesses and showcase their potential. The NAHB International Builders' Show (IBS) is the quintessential place to do so. "It's a great chance to network with other businesses from right here in New Brunswick," said Bob Lennon, ThermalWood Canada's president of international marketing and sales director. "We connected with five companies from this region that had not previously been on our radar – all interested in doing business with us." ONB representatives acted as lead generators at the NAHB show and connected Lennon with prospective customers on the show floor.
Bathurst, NB's ThermalWood Canada produces high-quality, thermally modified wood products for indoor and outdoor solutions. They've delivered new technology to the wood and forestry industry via their technology that thermally modifies wood. It was "a new technology in an old, mature market, the wood industry," Lennon said. ThermalWood Canada has attended the IBS event seven times and considers it one of the greatest opportunities for New Brunswick businesses to connect with potential partners and clients in the United States.
ThermalWood Canada considers the NAHB IBS an excellent way to have a better understanding on the market's outlook of products like thermally modified wood. "When we first attended there were two operators here with thermally modified wood products, this year all our competitors were there, and the booths are getting larger. This shows the market has fully embraced our products," said Lennon. The IBS programs cover everything from economic trends to business opportunities, housing, sales and marketing, construction methods, architecture, design and much more. It's North America's largest annual residential housing construction trade event for suppliers and manufacturers of products in these markets.
At the IBS 2023 event in Las Vegas, Lennon and the ThermalWood team were able to walk the show floor instead of managing the booth. This presented them with an incomparable networking opportunity that exceeded expectations. "Had we brought a booth I may not have had the chance to visit with potential new clients," he explained. "All our competitors were exhibiting similar products, so I managed to visit with people that may not have managed to make it to our booth. It's a great place to get much-needed exposure, meet partners and customers you may not have previously considered, and pass out a lot of business cards."