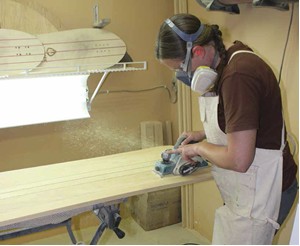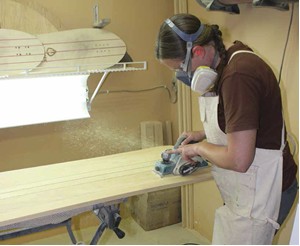 When in doubt, diversify
THERE WAS A TIME during the financial crisis when Richard Hatkoski's company, which once employed 28 people, was down to one: himself. No work was coming in. Bills were piling up by the day. Friends and family members were asking him why he didn't just give it all up.
He had one simple and not completely rational answer to offer: "I just believed."
THE POWER OF SIMPLY BELIEVING — in himself, his company, his workers, and fate — is what helped Hatkoski pull through the worst of times. Today, his primary business, Commercial Pallet in Baysville, Ont., is still standing, as is one of its offshoots: The Muskoka Surfboard Company, a maker of premium wooden surfboards that are starting to surface in Ontario's cottage country.
Hatkoski attended the University of Waterloo, in Waterloo, Ont., where he graduated with a degree in civil engineering in 1990. He came back to the Muskoka region to work as a manufacturing engineer, which culminated in a managerial position at Algonquin Automotive – a company that supplied auto parts to Toyota. Algonquin used the Toyota Production System, which left an impression.
According to Hatkoski, "It's more of a philosophy than it is a system, and what a difference it made at Algonquin. If you take all the so-called lean approaches we know about today — just-in-time, kaizen, you name it — it's all incorporated in the Toyota system. From that, I learned that an operation can always find efficiencies. Even placing a workstation a few steps closer to the next workstation can make a huge difference over time."
It was while working at Algonquin that he stumbled upon Commercial Pallet, a small, four-employee operation Algonquin was considering using as a supplier. Algonquin sent Hatkoski to do a business analysis. Instead, he decided to buy the company himself.
Hatkoski describes the situation at the time as, "First, I really liked what I saw at Commercial Pallet. It had what I considered to be all the requirements for a successful small business. It was family-run, with no succession plan in place. It was a supplier for other companies in the region. It was also ripe for a transformation using the Toyota system principles I was steeped in by that time."
Yet something else was tugging away at Hatkoski. "You know, I was 35 at the time and had really gone as far as I could go at Algonquin," he says. "My grandfather ran a cottage and marina business in this region, and I wanted to get back to those roots. My father, who was a teacher, decided he'd finance me. So we did it. I bought Commercial Pallet, and have not looked back since."
AT ITS PEAK, Commercial Pallet expanded to two facilities, with the other focusing on industrial packaging. Hatkoski looks back at that time with some nostalgia: "Things were so good that we couldn't even imagine anything going wrong. Yet reality hit, starting in 2007 and the recession, when everything that could go wrong, did. Were there times when I didn't think we could survive? Absolutely."
Yet survive the company did. Hatkoski says the crisis changed the way he approached business. As he puts it, "I no longer saw myself as providing products, but as providing services. We have space in the warehouse, so we rent it out as a service. We have a capable and flexible workforce that can do more than pallets. Customers hire us for that reason."
Under Hatkoski, the company diversified into making things like epoxy kits and a solar-powered unit for pumping water from boats. But Hatkoski's demeanour changes when he talks about one specific diversification niche within his company, The Muskoka Surfboard Company, which is as much the result of personal passion and just plain fun as it is about good business.
HATKOSKI SAYS the idea behind the surfboards came while doing consulting work in California. He fell in love with surfboarding, so much so that he decided to bring it to Muskoka, where there is a lot of water, but not a lot of waves. His solution was tow surfing, which is quite different from its namesake. Tow surfing only requires a boat with a 10-horse motor, a rope, and one of Hatkoski's handmade wooden surfboards.
"Tow surfing is really for people like me who aren't dead yet," says Hatkoski, "middle-aged moms and dads who want some surfing fun on the lakes without the hassle that comes with water skiing or other forms of surfing. It's slower. You have more control over your movements."
In 2010, it took Hatkoski 10 hours to make his first surfboard from obeche wood. He realized he needed some help, so he hired Tracy Crewson, a local woodworker who was trained in wood furniture making at Camosun College in Victoria, B.C.
By 2011, Hatkoski had sold only one board: the first one he made, which he calls Number One. He has bought it back since and cherishes it. By the end of cottage season
in 2011, he had sold about 30 boards. Current production is approaching 100. Hatkoski says the surfboards are gaining traction with the cottage crowd, which is why he is planning to open up his own retail store. His experience with a local sports store was not very rewarding.
According to Hatkoski,"We sold more on our own than they did at the store. The salesmen there just didn't get it. They didn't understand the appeal of tow surfing, or even know what it is. Our experience has been that, once people learn about this sport, they love it. So we think we'll continue to grow as a business, and a brand."
IN ADDITION TO THE SURFBOARDS, The Muskoka Surfboard Company is now offering discs, which are a throwback to a style of surfing from decades ago, as well as skateboards, which Hatkoski demonstrates by whizzing around the shop floor.
As an example of growing the business, Hatkoski plans on eventually giving Crewson some help with a CNC machine, an upgrade to their current table saw, as well as a helping hand or two in staffing. He sells at local cottage shows, with an eye to some bigger shows in the States. If all goes according to plan, tow surfing will gain a toehold in Muskoka, and the Muskoka Surfboard Company will be the brand behind the new trend in leisure sports.
Post comments below.