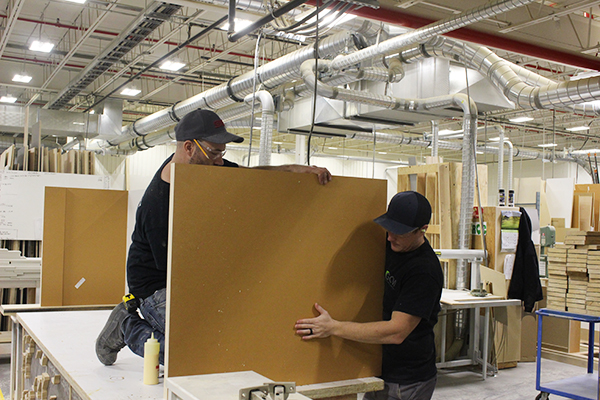 Growth vector, time for charity at GCW Kitchens
Kitchen cabinet company sets the table
Many a company has origins in a residential garage, and some are content to stay there. Not GCW Kitchens & Cabinetry of St. Thomas, Ont., which had its humble beginnings constructing one kitchen at a time from just such a garage.
Fast forward to 2018 and the company has evolved to employ over 100 staff, has two showrooms and an 82,000 square-foot, state-of-the-art manufacturing plant.
At the beginning, according to GCW president Ron DeWeger, local home builders didn't have many shops to choose from in 1999. "There was a company that was supplying cabinetry to a number of builders here in town. That company unfortunately went under. And so, two builders in town said, 'why don't we just take over the kitchen cabinet company? It can't be that hard.' I always like to say, 'famous last words,'" laughs DeWeger.
However, it wasn't just success that drove GCW out of its garage at the back of a St. Thomas home. "The neighbours could smell the paint finishes. So, there were a few complaints. Then we had to move from there to a small strip plaza with about 2,000 square feet."
Growing by leaps and bounds, the company — situated close to London, Ont. — moved to a building of 8,500 square feet in 2004, the same year DeWeger started. "At this plant we brought in CNC technology and we had a paint booth built in," says DeWeger. "We had an edge bander — now that is really the humble beginnings."
Then, in 2007, GCW purchased a 21,000 square foot building, added a second CNC machine and an automated spraying system. "It was far too small for the growth we were experiencing," explains DeWeger. Consequently, the company moved to its current 82,000 square foot plant in April of 2013.
"We grew 22 times the size from the beginnings in 2004 when I joined in until today," says DeWeger. "We've become a formidable competitor in the area and probably one of, if not the largest, cabinet manufacturers, in southwestern Ontario."
The home builders in the region account for about 75 percent of the current residential business, according to DeWeger, with about 25 percent of the company's overall volume representing commercial projects. "In April of 2014 we started a commercial division under the name Milestone Commercial. To simplify our operations, we have just changed the name to GCW Commercial (to go with its GCW Residential division)".
Installations include hospitals, multi-unit complexes, high rises and food franchises. Dairy Queen, Tim Hortons and Parkwood Hospital now have GCW cabinetry. "We do a lot of reception areas and nursing stations in the hospitals," says DeWeger.
"Commercial is an industry that is notorious for not being on time. We are on time every time and have built a real strong reputation for that."
DeWeger says that he was approached to join the company prior to 2004. "I was asked a couple of times in 2002 or 2003 if I wanted to join from a sales perspective. I thought about it and I thought it wasn't a good fit and it wasn't the right timing.
"It wouldn't have been affordable at the time. When I made the decision to join, I said, 'I would like to join, but I will buy in and be your general manager.' That was my position at the start."
When the dust settled, four owners at GCW emerged: DeWeger with his sales experience, George Vanderveen, Terry Kuipers and Dave Dryfhout. Cabinet maker and original employee Dryfhout is now plant manager, while Vanderveen takes care of the maintenance and the physical aspects of the building, and former chicken farmer Kuipers takes a background investor role. "It is just a perfect combination," says DeWeger, "nobody stepped on the others' toes."
"We dealt with everything as a board of directors. I think it was the key to the success of this company to this day. Because we collaborate on everything, we have never had issues in all of the years since 2006 — it has never come to strong words. I think there is a little bit of safety in (ownership) numbers."
Besides bringing his sales experience from the wallpaper market to GCW, DeWeger also brought a strong design sense to the company. In 1984, he graduated from the Interior Design program at Fanshawe College in London, Ont. "I ended up in the furniture industry for a number of years and then I took a job with a wall covering firm," says DeWeger. "So, I worked for two wall covering companies for 20 years in sales and marketing.
"So many things have happened since we started GCW. What I tend to bring to the table is I'm a bit of the vision caster in terms of promoting ourselves."
One of DeWeger's promotional visions was to outfit the showroom in St. Thomas and the satellite showroom in London to present cooking classes. "We are not just fixated on workwork- work and producing, we're making it fun too."
The working demonstration kitchens, complete with appliances, can be used by the staff, builder clients and sales prospects. When GCW had its London showroom grand opening in 2011, it brought in David Rosen, a local chef. Rosen cooked hors d'oeuvres that night and his association with the company has continued ever since.
A source of pride to DeWeger is giving away kitchen showroom time to charities. "When a charity asks us to donate, we donate a cooking class. We get typically 10 people in London or 12 people in our St. Thomas location."
The showroom grand opening in St. Thomas in 2014 attracted over 600 people, with chef Michael Smith presiding. "We had done his kitchen in P.E.I.," says DeWeger. "He was speaking that night, so we charged admission and we raised $33,000 for the charity Bethany's Hope in London."
The company allows its facility to be used by charities free of charge, including the kitchen and a boardroom that can hold 22 people. Besides fundraisers, charities have also conducted board meetings in the space.
Although the company has over 100 employees, there is no union in the plant. "We have a really good rapport with our staff," says DeWeger. He feels that comparatively speaking, GCW has very high employee retention. "Someone just said to me the other day that, 'wow, your design team.' They had gone to other places and noticed there is kind of like a revolving door as far as people leaving."
He observes that his company has the same designers working for it longterm, and not just in that department. "We try to really build on key employees. I think people that are really proud of what they do. They know they do great work. They are looking on this place as a career — as a vocation really. We are really blessed with that."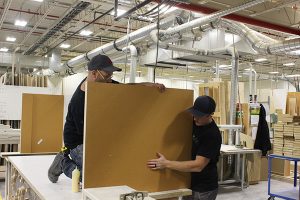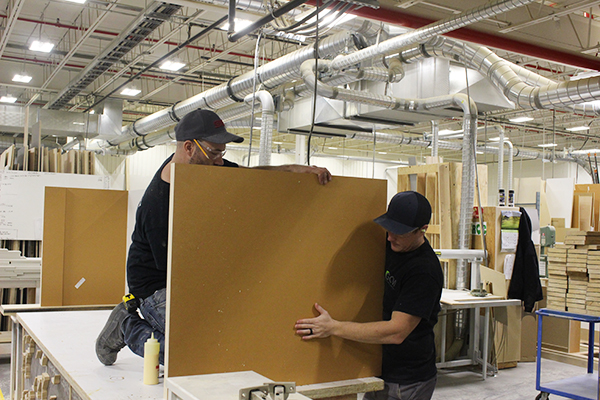 As the company continues to grow, new staff is required, so local outreach to schools is conducted on an ongoing basis. Interior Design classes from Fanshawe College come into the London location every year and the same students also come through for plant tours in St. Thomas. "We also have a good number of people that came through high school tours that ended up working for us.
"Some people in key shop roles were actually hired through co-oping with us through high school. We see that as a really important part of our business to the point where, as ownership, we are actually looking at those key players, strategizing on how we are going to transition them to put a succession plan in place. The script isn't fully written yet."
One way of transitioning employees into key roles takes place in management's collaborative approach with the staff. "Because of the company size we really work within committees throughout the organization. We have, for instance, a sales committee instead of a sales manager. One of our salespeople is chairing that sales committee along with somebody from engineering, service, from the floor in production, someone from purchasing and myself as management or one of the owners.
"We get real buy-in and people feel like they are really part of something."
Although manufacturing kitchen cabinets is an established practice, GCW has a development team looking at adopting new technologies into its production lines and finished kitchens. "We may have up to two or three people just developing new systems for the manufacturing," says DeWeger. "Or working on how the ERP is integrated with our finances and our inventory and the floor." In developing new products and programs that attract home builders and commercial clients, the company focus is always toward providing the consumer a better experience.
"How to integrate lighting and other technologies into our cabinetry is being explored," says DeWeger.
"If you went right now to our London showroom, the place is completely automated. When we walk in, we hit a key pad and all the lights, TVs and everything goes on." However, the company isn't stopping there.
"Our hope and our end goal is that we will be one of the first to really truly automate the kitchen to the degree where it will become a certified smart kitchen."