Raven Valley Kitchens: Six Years of Success
It's been over six years since Raven Valley Kitchens opened its doors on Vancouver Island. Countless partnerships, designs and stunning custom cabinetry projects later, owners Bill and Anne-Marie Madge are humbled to hold a reputation that carries far beyond their local shores.
"We are incredibly proud of opening our doors in 2016 as newcomers to the Island and to have built this business from the ground up with no pre-existing relationships or connections here. In this short time, we have developed strong, enduring relationships and certainly have made our mark as a trusted custom cabinetry manufacturer within our community," says Anne-Marie, managing partner.
While the duo was new to the Island when they opened their manufacturing facility in Cobble Hill, they were no strangers to the custom cabinetry business. Bill, a graduate of Conestoga's Wood Manufacturing Technology Program, spent his early career years as a General Manager of a large production facility in Southwestern Ontario and continued partnering with this company as he started his own initial venture.
"Bill had firsthand experience as a Leader at a start-up and was quite successful at it. So, when we moved to Thunder Bay in 2009, he used that experience to start up the first iteration of our business, which was basically designing and selling custom kitchens from a distance, sending CNC programming files remotely and receiving flat packed cabinets and installing them."
As the side business grew, so did the pair's ambitions. And after a trip to Vancouver Island, Anne-Marie knew the Cowichan Valley was the perfect place to fully bring Raven Valley Kitchens to life.
Six months later, the pair moved across the country and transitioned their full-time attention to launching. "Although it seemed ambitious to move with our young family and just start out of nothing, I knew we had to do it like this. You can't think about taking a leap of faith for very long. Sometimes you just have to go!" notes Anne-Marie. "In mere weeks we found a suitable building, purchased and moved our equipment and turned on the lights on Labour Day weekend 2016."
From the ground up
Starting a business from scratch in new surroundings was no small order. Fortunately, setting up shop in a high-traffic industrial park in a fast-growing part of the country was enough to get the ball rolling.
"The timing was right, interest in the Island has steadily increased over these last years" she recalls. "The work was there to be found. You just have to go all in. You commit yourself, and then you figure it out."
Raven Valley Kitchens' growth has been led largely by client referrals, repeat partnerships within the new home construction market, and interest generated by a very small online/ social media presence. Anne-Marie adds that the company has also found much success in partnering with custom home builders. "Due to our location in the Cowichan Valley, we also have really honed in on lake homes and fairly elaborate waterfront properties. This only accelerated during the pandemic era."
As a trusted partner Raven Valley Kitchens bring design and build expertise for cabinetry and millwork solutions for the whole home, noting: "We believe in these long-lasting relationships, and that when our design team, the home builder, and homeowners are seamlessly working as one, they produce a high-engagement experience with results that exceed expectations. We credit much of our success to both our dedicated and fastidious designers and production staff."
Shop talk
Raven Valley Kitchens is a lot busier today than it was when it opened its doors. In the six years since opening, Bill and Anne-Marie have invested in the machinery, technologies, and people to produce as much of their cabinetry and millwork within their walls as possible.
"We do as much in-house as we possibly can," adds Anne-Marie. "All our kitchens are plywood construction and we make as many components as we can internally. Our CNC cuts kitchens, but we can also make our own doors. That means we have more autonomy on our timelines and with less shipping and suppliers involved, we can price competitively in this area."
That's not to say Raven Valley Kitchens flies solo. The company trusts some of its door profiling to local door manufacturers and has built a supplier network comprised of domestic partners.
"We're always striving for that Canadian-made product," notes Anne-Marie. "We go out of our way to get as many of the premium building products as we can from Canadian sources. That includes a quartz and stone supplier out of Nanaimo that we consider an extension of our team."
It's this mix of in-house capabilities and reliable manufacturing network that enables the team to produce over 40 total custom home projects a year, plus other assortments of smaller diverse projects for a wide range of clients throughout Vancouver Island.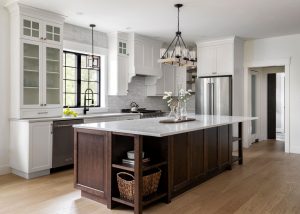 Consistent evolution
Since opening its doors, Raven Valley Kitchens has been focused on making continued enhancements to its production manufacturing systems. Over the years, Bill has invested in shop technology to automate the manufacturing processes and be as self-sufficient as possible. The team has also worked to implement and integrate design programs such as CAD, Mosaic, SketchUp, and are dabbling in V-Ray to produce striking designs and to streamline and accelerate its manufacturing processes.
"The end goal is to have one production file driven by technology that takes detailed front of house designs and automates job costing and ultimately directly feeds the machine programming and instructs all facets of production for the shop and install team. Streamlining is our core focus in this next phase of growth." says Anne-Marie.
Ultimately, she adds, enhanced automation, software integration, and focusing on information communication between our front of house design team and our production/ installation team will enable Raven Valley Kitchens to exceed in new home construction. "We're often in these pretty elaborate builds with multiple trades working the site. We are striving to arrive with as much prepared, specialized hardware components integrated and quality reviewed internally by our shop team as possible. We need to be in and out focusing all of our attention to the most effective and organized installation possible."
With steady growth and very low turnover, today the company is home to a team of 10, including skilled designers, cabinetmakers, finishers and installers. Each one, bringing a wealth of expertise, education and countless combined years of wood manufacturing experience.
"Since day one we have been inwardly focused on team development and finding talent excellence, so much so that our workforce and volumes continue to grow year over year." says Anne-Marie. "Bill often says, 'take good care of your people and they will take good care of everything else.' And it's proved to be incredibly true."
Taking a chance on Vancouver Island has paid off well for Bill and Anne-Marie. And with a strong presence in the custom home market that continues to grow, Raven Valley Kitchens looks forward to continuing to build its legacy.
Matt Bradford is a writer, editor, and longtime contributor at MediaEdge, publishers of Wood Industry e-digest and magazine. He has spent years reporting on the wood and construction industries and values the opportunity to provide insights into the secondary wood manufacturing community's successes, challenges, and opportunities.