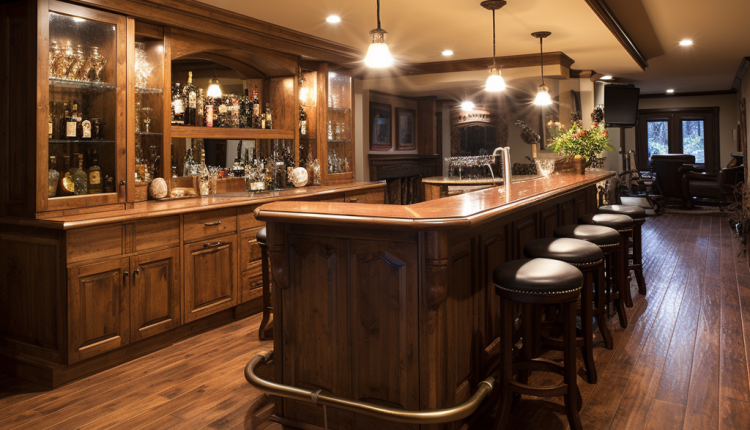 Raise a Glass: At-home Bar Continues to Make a Comeback
The pandemic years changed people's views of their homes. Forced to work remotely due to government-mandated lockdowns, homeowners redesigned their spaces to fulfill this need, harkening the rise of the home office – a trend that's had staying power thanks to the proliferation of hybrid work situations. To combat feelings of social isolation and loneliness that can come from remote work, and increase employee engagement, many companies introduced Zoom happy hour whereby employees engaged in group online activities after 'office' hours. The virtual cocktail party quickly took hold and soon these mixology events stirred people's desire to have an at-home bar. In its 2021 design trends report, Houzz, an online platform for home remodelling and design, revealed searches for home bars had increased nearly four per cent year-over-year.
Despite workers being recalled to the office over the past year, either on a part-time or full-time basis, with the return to the normalcy of pre-pandemic life, and bars and restaurants fully back open, the at-home bar appears to be here to stay (at least for the time being, as is the case with most design trends). The current desire to prepare a cocktail at home remains enticing as a result of rising inflation costs – restaurant prices have increased substantially in the last few years – and the downturn in the economy. According to a new report by market researcher Kantar, U.S. consumers are drinking less while out, with 23 per cent saying they drink more at home now than they did 12 months ago.
As a dedicated home bar is now considered the ultimate entertaining accessory, it's important to take note of what consumers want when creating a contemporary version of this popular 1950s and '60s home feature. Whether located in or near the kitchen, in living or dining areas or the basement, a freestanding cabinet tower or cabinet uppers with glass-front doors allow homeowners to quickly see what they need, and provide the necessary storage for bar essentials like shakers, mixing glasses, drinkware, spirits and liqueurs. Along with floating shelves, as an alternative, they're also a great way to showcase to thirsty guests and discerning drinkers what you keep stocked. Solid base cabinet drawers to hide away bottle openers, corkscrews, jiggers, stirrers, cutting boards (for chopping fruit and other garnishes), a muddler and citrus press are a must-have, too, as is a built-in beverage fridge, wine storage, bar sink, ice maker and, in some cases, a dishwasher drawer.
Sneaky smart rollouts/pullouts in undercounter cabinetry are an ideal way to maximize all available space (something everyone wants), as they tend to be deeper than regular shelves. They also help increase the amount of accessible storage and offer the option of customization through the addition of organization inserts.
If space warrants, a lounge bar with island-type seating elevates the entertaining atmosphere to the next level. And with the inclusion of smart technology like lighting and temperature controls, a built-in sound system with speakers and a custom designed, motorized television lift cabinet for sports viewing and interactive trivia games, homeowners are sure to draw friends and family away from doling out money on drinks elsewhere to spend time in their at-home 'local.'
Clare Tattersall is an interior designer and decorator in Toronto, and the editor of Canada's floor covering magazine, Coverings.