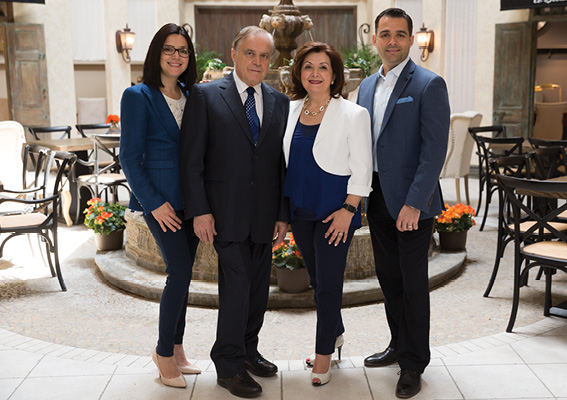 Family-owned Vaughan, Ontario furniture manufacturer, Decor-Rest, has been serving retailers worldwide with fresh, high-quality designs for over four years. With roots in Italy, the business places great importance on their values and integrity while equally looking toward the future and building their brand on innovation and competition. In an effort to continue their goal of modernizing and expanding, Decor-Rest acquired two other companies just last year, Superstyle Furniture and Trendline Furniture.
The two purchases have allowed the furniture manufacturer to create an umbrella for their brands and are now called Decor-Rest Group or DRG. Under one corporate entity, DRG will include Decor-Rest, Superstyle, Trendline and Marzilli Furniture. The purchases are a monumental move for the Marzilli family who celebrated the 50th anniversary of Decor-Rest in 2022.
"As a family-owned and -operated company, we are excited to build on this heritage with the creation of Decor-Rest Group," said DRG president and CEO J.R. Marzilli. "DRG truly brings our family of brands together and provides us with an even stronger foundation as we continue to meet the needs of our customers in the United States, Canada and abroad. We are well positioned as we build on our next 50 years. With our recent growth and acquisition of SuperStyle we wanted to bring our brands together and continue to celebrate the strength of the Decor-Rest name and brand. Our vertical integration allows us to offer better operations and efficiencies, while continuing to provide our customers with the superior quality construction and fashion-forward products they have known from all our brands. While we celebrate our brands under one umbrella, each of our companies will also retain their own identity and place in the market."
Acquisitions Follow Decor-Rest's 50th Anniversary
Founded in 1972, Decor-Rest made an established name for itself as choice manufacturer for affordable solid-wood frame and bench-made upholstered furniture.
The company has elevated its product range and craftsmanship since its formation and before this year had a dedicated team of 350 manufacturers and a 250,000 sq. ft. base of operations in their Vaughan, Ontario as well as showrooms in High Point, North Carolina, and Las Vegas, Nevada. These new acquisitions followed Decor-Rest's move of increasing its manufacturing capacity by 35%, which expanded the company's footprint to 400,000 sq. ft. and 450 total employees. Superstyle was purchased by Decor-Rest because of its immense potential. Marzilli explained how Supertyle offered "an added dimension to the Decor-Rest Group with an offering of exclusive fabrics and casual, contemporary style with solid-wood-frame construction as well."
Superstyle and Trendline Furniture have been providing upholstered furniture pieces for over 50 years using fine fabrics and premium craftsmanship. Both acquisitions coincided with Decor-Rest's 50th anniversary last year. Danny Colalillo, president of Superstyle Furniture and Trendline Furniture spoke on the acquisition last year stating "Now, the agreement that has been reached with the Decor-Rest group of companies to acquire Superstyle Furniture and Trendline Furniture guarantees the strong legacy of our family-founded Canadian companies and helps meet the increasing demand of consumers for decades to come."
Superstyle products will be offered to customers at a separate location from Decor-Rest. "We bought the former railroad administration building," said JR Marzilli, president, and CEO, of the 208 Jacobs Place showroom. "(But) 8,000 square feet doesn't show enough of our line; that's why we're breaking ground to expand the Jacobs building." Decor-Rest's fundamental objective of the Superstyle purchase is to ensure all of DRG shifts its target focus to millennials and buyers with a desire for contemporary, clean, and casual yet lush furniture pieces.
Solid Hardwoods are Staple of DRG
The DRG brands will have the same construction of their upholstered furniture products as their original Decor-Rest, but with different fabric and style types to distinguish between Decor-Rest and Superstyle. "We use solid wood construction and a choice of fabric or leather with four-to-six-week lead times," said Marzilli. Designed and engineered from Air or kiln-dried North American maple or birch hardwood, the wood frames on the products are double-dowelled and highly durable.
Looking to the future, DRG expects sales to rise in 2024 by five to ten percent and will be open to dealers and offer ideal areas for their brands to set up shop. Currently, the group is working on devoting an entire floor for each of their brands and the location will be roughly 28,000 sq. ft. Marzilli hopes for DRG to sell to two prominent dealers to have a second set and expand the group's influence.
Ellie King is the Editor of Wood Industry / Le monde du bois magazine and weekly E-digest. She has years of experience in B2B writing and editing and is empowered by the opportunity to share the marvels, pitfalls and weekly news of Canada's secondary wood industry with our readers.