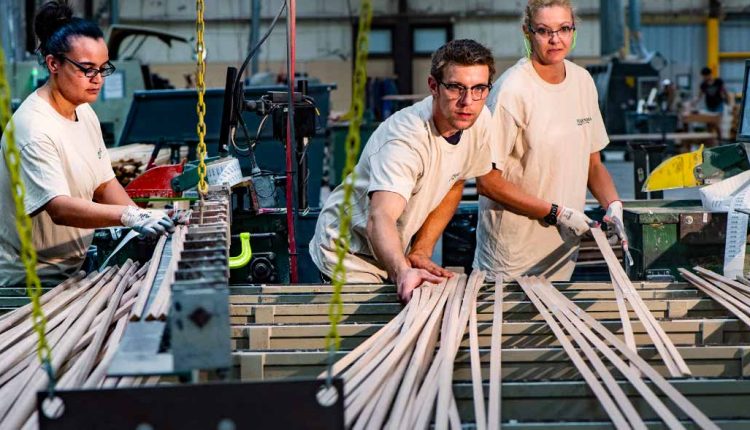 Alexandria Moulding has its roots in humble beginnings. While Rolland Cholette, an entrepreneur in Alexandria, Ontario was trying to make a go of various businesses and ventures, his wife was going door-to-door cutting hair and making money just to keep the lights on. But in 1943 Rolland stumbled onto something. At the height of World War II, he opened a hardware store, then known as Alexandria Sash & Door. Over time the business expanded to include manufacturing, which by 1952 included wood mouldings.
"But my grandfather needed help," remembers André Cholette, "as the business was near going bankrupt." His father Ronald and his uncle Guy were best friends and complimented each other, as Ronald was able to handle finance and administration, while Guy was more on the operations side of things. They had to quit school and joined the company in 1952 and 1955 respectively as President and Vice-President, positions, which they held until retirement in 1997.
The business under their tutelage grew their manufacturing to moulding, and components for doors and windows. However, in 1969, when André was only about seven years old, disaster struck. A fire broke out, which led to the decision by the three partners to only manufacture quality wood mouldings, and by 1975 the company was successful again in its niche business. One important changeover, notes Cholette, is that there was also a movement from serving local contractors to reaching further out to Ottawa and Montreal.
Times were tough, especially after the fire. But Cholette says the heart and soul of the Cholette partners was to pay on time. "Paying a supplier on time," he notes, "was as important as servicing a customer and to this day it's in my genes as well."
By the 1980s Alexandria Moulding was delivering custom moulding, cut-to-length products either house to house or to important developers such as Robert Campeau who eventually owned Allied Stores and Federated Stores – the owner of Bloomingdale's. Retailers became part of their client-base as well.
Despite having worked odd summer jobs at the company, André, along with his brother Jacques, and cousins Richard and Pierre were the third generation to take control.
Another turning point for the company was when they decided to stop selling to all contractors and exclusively go to retail, with one of the larger ones being Beaver Lumber (now Home Hardware). Sales began to grow, notes Cholette, by a sales representative who changed the displays in many stores to be at the front of the store.
Because most of the lumber was being shipped across the continent, the company in 1989 built a plant in Moxee, Washington, which was known as Can-Am Millwork. The site became operational in April 1990. "We were getting 90% of our Ponderosa Pine from the West," he adds. "So instead of getting our lumber shipped, and there's waste when it comes to moulding, so we were [essentially] carrying waste." Also, new forces were at work that could have hurt business. South American products were flooding the market and environmental concerns about the Spotted Owl were growing. Cholette says they took their manufacturing and distribution business model, and applied it to western customers in Washington state and British Columbia.
"We struggled in the West but we survived, made a go of it and became a true national company."
More expansion occurred in 2002 with a 224,000 square foot distribution centre at Wilkes-Barre in Northeastern Pennsylvania. Only three years later further expansion occurred with a more than 68,000 square foot distribution centre in LaPorte, Indiana. The continuing demands for space resulted in the construction of a 220,000 square feet ultra modern, state of the art distribution centre in Alexandria, Ontario. The new site is called internally, officially opened during inauguration ceremonies held on March 29, 2008.
In 2016 a 73% stake of the company was sold to private equity firm Industrial Opportunity Partners who later sold it in 2018 to Atlanta-based U.S. Lumber.
Alexandria's Canadian Operations, boasts approximately 580 employees while Alexandria's U.S. Operations, employ approximately 250 individuals.
Joel Kranc is an experienced and award-winning editor, writer and communications professional. With more than 26 years of experience, Joel has covered a variety of topics in the finance and B2B space. He owns and operates his own content company – Kranc Communications.