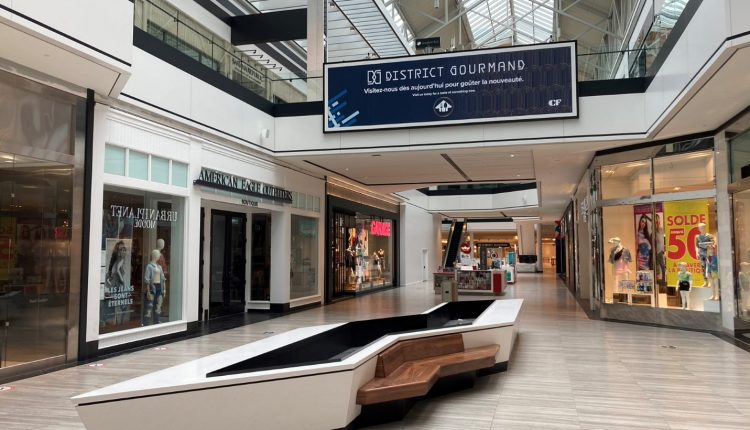 More than Millwork: Boisdaction
Grace Tatigian
When AWMAC sent me the list of finalists for their upcoming prizes of distinction, a few companies showed up more than once. Boisdaction, for instance, is a finalist in three categories: Public Project for their Loto-Québec project, Accommodations/Hotel for their Aquablu project, and Retail for their Fairview Pointe-Claire project. So, naturally, I wanted to chat with them to learn more about what they're doing right. 
I spoke with Francis Déry, president of Boisdaction, about their various accomplishments. When I pointed out how different the three projects are, he nodded.
"Diversity leads to creativity," he says. "We like to play with our team's talents, try new things. We currently have about 60 employees, and we could do with ten more. We're always looking for more people."
Growth is nothing new to the company. Boisdaction started in 2005 with 10 employees in a 10,000 sq ft space, and within five years, they'd outgrown the space and invested in a new 34,000 sq ft location, hoping one day they'd grow into it.
"That day came six to eight months later," says Déry. "And then in 2017, we needed to expand the plant's surface area to support the growth of our activities."
They certainly have many opportunities to try new things, working across many different sectors, including restaurants, institutions, accommodations, retail, and corporate.
I was particularly interested in talking about the Fairview Pointe-Claire shopping centre. Having grown up in the West Island of Montreal, I've spent a fair amount of time in that mall. It's almost unrecognizable to me now. Gone are the miles of beige paneling and tiles of the 90s, replaced with modern, clean-cut décor throughout the center in the common areas, elevators, and the new staircase leading to the second floor.
"They were doing a complete revitalization of the mall," explains Déry. "Particularly the old Sears section, which is going to be replaced with Simons. Pomerleau was the general contractor, and we'd worked with them many times before."
I asked if that was what got them the bid, but the preexisting relationship was only part of it.
"We're incredibly competitive, and not just when it comes to price," explains Déry. "Yes, we're an architectural millwork company, but we do more than that. We work a lot with wood, but also with metal, glass, plastic — those are all part of today's architecture. If you want to stay competitive, you have to specialize in all of it."
That was a big part of what got them the Aquablu job as well. A luxury condo building in Saint Dorothée, overlooking La Rivière des Prairies, Aquablu has a communal pool, gym, and games room for residents. Condos range in size from 1885 sq ft to 1466 sq ft and feature terraces, balconies, and high-end furnishings.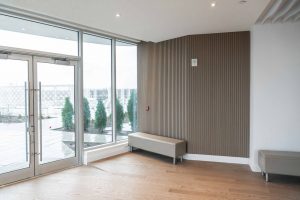 "The general contractor, EBC, already had a millwork company working on the project, but we had worked with them before, and we had a good relationship," says Déry. "So when they realized they wanted something specific for the lobby, for the hallways, they called us."
Specializing in multiple areas means clients don't need to choose a company with just one area of expertise or find several companies to get the job done. That's part of what makes them such an attractive partner for general contractors. Boisdaction worked with Pomerleau not only on the Fairview project but also on the Loto-Québec job.
"It was a big project, and there aren't a lot of companies out there who have the capacity to do what we do," explains Déry. "The companies we work with know this and keep coming back."
When I asked how they liked their chances of winning an award this year, Déry says, smiling, "I don't want to get ahead of myself, but we've won an award every year since 2007, knock on wood! One year, we even won two."
It's clear Déry takes great pride in his company's work, which is why he takes such care in every step of the process, from manufacturing to installation.
"We only work with three installation partners," says Déry. For their finalist projects, they worked with Dama Construction. "When we work with an installer, they become part of our team. They get the Boisdaction shirts and ball caps, and we actively work with them and supervise the process."
This kind of partnership ensures that the installer takes the same care in installing the pieces as Boisdaction takes in making them. Quality is a major priority for Déry, which is why he works so closely with AWMAC.
"We always take advantage of their Guarantee and Inspection Service," says Déry. AWMAC's GIS is a three-step process with a written report issued for each step. This includes the shop drawing review, the sample unit inspection, and the final site inspection.
Déry believes that this guarantee and collaboration with AWMAC brings a certain level of renown to Boisdaction's work. They've always worked closely with AWMAC, particularly in the last five years, and hold a seat on the board of directors. It's an excellent way to stay up-to-date and involved in their field.
"There are so many different sectors," says Déry about the industry. "And it's fun to do different things. It's a great way to show our creativity."
And Boisdaction certainly has a lot of creativity to show.