Mission, vision and principles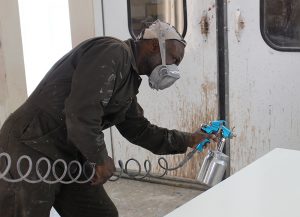 The executive office is at the back of the showroom of Clareville Distinctive Kitchens and Baths, in Brampton, Ont. The door is wide open, revealing a framed set of blueprints for a classic three-storey home. In the bottom right hand corner is the signature, "Lucas Psarianos, architectural technologist."
Lucas "Luke" Psarianos, president and director operations at Clareville, confirms his authorship: "Yes, I studied at Centennial College and the Royal Architectural Institute of Canada, and Urban Planning studies at York University as well," he says.
According to Psarianos, this background blends perfectly with Clareville, as the company works directly with both homeowners and building contractors for the sales, design, manufacturing, and installation of high-end cabinet furnishings and joinery.
"When I purchased the company in 2015 (it was founded in 1989), I had known about it from previous projects I'd worked on and heard that the owner was retiring," Psarianos says.
"Buying a business was something that was on my bucket list. In my past I'd done very high-end kitchens and knew what Clareville was capable of."
It turns out that in his career at one architecture firm, Psarianos helped design homes for such prominent Canadians such as Larry Tannenbaum of Maple Leaf Sports and Entertainment, Ontario governor-general Hilary Weston, Heather Reisman of the Chapters Indigo book chain, the Rogers Communications family and for Conrad Black's son (on the Bridal Path in Toronto). "That was a wonderful tenure that I had in the mid 1980s to early 1990s. I loved that style of formal architecture. Unfortunately, the firm moved to the U.S. and I was totally devastated — missing that aspect of it."
After this, Psarianos took over the construction maintenance management of the buildings and landscape at Pearson International Airport in Mississauga, Ont., for 15 years. "But I've always had an insatiable appetite to run a company," says Psarianos.
"I pride myself as being a people person and love working with the public. I hope that people believe in the value of having great employees, the right people for the right job." Consequently, Clareville is selective about who it hires, both for the company's benefit and the potential employee's benefit.
"We don't want to put somebody in an unfair position where their skillset is not what it should be to produce the quality that we've set the benchmark for," Psarianos says. According to Psarianos, he wants employees that believe in one another:
"I like to think that the greatest assets are not the equipment you will see, the kitchens that we've installed or any of the products we work with — I hope the greatest assets in our company is the employees. Without these employees the machines won't be running and these projects would not be coming to fruition."
The company is structured to invest heavily in the employees, according to Psarianos, whether it be training, going to seminars, attending trade shows, learning about the product that they are so passionate about, and understanding the product that they're building.
Although employees at Clareville are industry veterans, the company will take on apprentices and is a member of the George Brown College co-op program. "When I say that we invest in training," says Psarianos, "I don't just mean that employess sit down in an eight-hour seminar. I mean that I will take time out of my own schedule to sit down with them and see what it is that this employee needs."
Psarianos has observed that the staff is very supportive of one another, and reinforce what they can do with each other: "They may have their lunch period and something is going on — they'll drop their sandwich to go and help the other guy and vice versa. That's the culture that we like to promote here."
Psarianos believes in an equal opportunity, quality-conscious, culture that provides a fun environment because, "we're here longer than we are at home sometimes. The employees are involved in the decision-making process because I'm a firm believer that the best decisions are made out of a group environment. They always consult one another before they start something because they realize that what they do might affect the other guy down the line."
Environmental responsibility is not something that Clareville takes lightly," says Psarianos. "We want to take care of the environment that we and our future generations reside."
The next generation at the company is represented in part by son Demetri, a fourth year student at Queen's University in Kingston, Ont., who has job-shadowed his father at Clareville. The son has been active in supporting every aspect of the business from the showroom to the shop and everything in between.
"We choose materials that are as green as possible and anything we discard goes to responsible companies that discard them for us properly and safely," says Psarianos. He notes that since he purchased the company, it has already passed audits with the city that deal with environmental issues, every machine has a dust collection system, and the company has a 22 1/2 by 14-foot spray booth that has three different filtration systems.
Whether at its manufacturing facility, or when on-site installing its finished products, Clareville declares that it is also committed to maintaining the highest accredited safety standards in accordance with the Occupational Health and Safety Legislation, for the benefit of its employees, clients, and the general public.
"Safety is also paramount," says Psarianos. "Everyone wears the proper protective equipment, from the paint shop to the guys that are drilling screws into various components."
In particular, Clareville management makes it a point to know when machine guards and dead-man switches are working because it has a monthly preventive maintenance program that checks all of the equipment. "I learned a long time ago that this is invaluable and saves money in the long run," says Psarianos. "For example, you might find a belt that is good for a couple of more cuts but that the fourth cut might not be as safe." Preventive maintenance actions nullify the possibility of having incidents or accidents, he adds.
"This not only maintains quality but also helps us control material waste."
The wood shop stores offcuts that can be used for small jobs such as building shipping crates.
Clareville is also looking into machinery to repurpose and sell its waste, such as a grinder to create landscaping mulch. "Not only will it generate another revenue stream for us but it will allow us to do our responsible part for the environment," says Psarianos. The total quality management business philosophy at Clareville means that all employees contribute to work flow processes such as team meetings.
"We do this before a project starts and when a project finishes," says Psarianos. "We sit down together, map the job out, go over the intricacies of the project, go over the conditions and requirements and make sure that we know how to enter the person's house — a place that we feel privileged to be in.
"Those are the values and principals we stand behind — if look at my business card we have our mission, vision and values there. We hand this out and see that people can hold us accountable to that."
In order that clients can feel comfortable with the company, "they have to know who the lead hand on the site is," Psarianos says, "they can then direct questions to that person as a single line of communication — it makes things easier for understanding, for interpretation and coming back to them with answers instead of going through several people in one direction and back the opposite way — which may take longer for any answer."
Clareville wants to do things expeditiously and to the quality that the client has come to expect, because a lot of its clients arrive as referrals. "Ask any one of our clients from over the past year randomly," says Psarianos, "and they'll tell you the same thing: that we were prompt, that we were accommodating, we were coaches, we were mentors, and that you guys weren't the least expensive — you weren't the most expensive — but the coaching and the mentoring and the fact that you sat down with us in this very office to say 'I want to go through this project with you.'"
By ensuring that the client is told what to expect, what the timeframes will be, what disruptions they will have, is reassuring especially to people that are new to the renovation process, Psarianos feels. "We'll do whatever we have to do to make sure the customer is happy with the product they've invested in. And so they come back to us. "We will even take them to the suppliers to help them choose the various knobs and handles, anything that we don't have readily available for them here. We'll go to any lengths to earn their trust."
Psarianos points to the bulletin board in his office. "If you look at the list of projects we have right now I could put an R beside each of them for Return or Referral. When someone makes a referral to us, we don't take that lightly, we take it as a compliment."
The company has created what it calls a "design excellence initiative," achieved by the strong creative credo of its collaborative in-house faculty. Psarianos goes over sketches and works up dimensioned drawings and three dimensional renderings with Clareville's designer and IT expert Daniel Boyce. The 3D renderings are critical to helping a client visualize their project before renovations start, Boyce says.
There is clearly a vested interest in sustainable design, business acumen and innovation at the company. The designs rest on the ability to thoroughly consider all the clients' requirements, and then capture the spirit of a space, by visualizing its capabilities and then producing sustainable designs. All of the design decisions are made after listening, absorbing, analyzing, and by considering the company's economic well-being, natural resources, and environmental consequences, while all of the quality materials are sourced from reputable Canadian suppliers, according to Psarianos.
Since the purchase of Clareville, it has grown 2 1/2 times in business from what the old management had done in the previous year. To help continue that growth, the company tries to be creative in promoting its business, Psarianos notes.
"We are becoming more prominent in social media, which wasn't the case before," says Psarianos. Now on Houzz and Facebook, with a revamped website waiting in the wings, it has also implemented both traditional marketing techniques such as using targeted ad mail with Canada Post, plus a unique "Spice" referral program.
"We call it Spice because it speaks to the kitchen idea," says Psarianos. "It allows a customer to recover five percent of their renovation budget. For each signed referral project, the customer receives back one-third of the five percent of their own project cost." In the case of a $30,000 kitchen renovation, he explains, the customer is eligible to get back $1,500 in three increments — $500 for each referral.
Psarianos knows that working well with suppliers also contributes to growing the business by making time for each of the supplier sales reps. "We've been considered by Richelieu as one of the top companies that they like to deal according to a survey they conducted," he explains.
"That's something we're working on to achieve with everyone that deals with us."
Clareville's goal, however, is to make sure its customers are well taken care of. "We want to make sure we provide value," says Psarianos. "Period."