Mastering mass customization
Every kitchen is the same — and different — so how does a cabinet maker profitably satisfy fickle, trend-loving consumers?
Easy — through mastering mass customization where production can be accurately repeated while creating new dimensions almost every time.
That is the challenge for Miralis, a mid- to high-end kitchen cabinet manufacturer from Quebec's Lower St. Lawrence region headquartered near Rimouski, Que., in Saint-Anaclet.
Driving the Miralis production philosophy is the Toyota lean process, according to ceo Daniel Drapeau. "We have tripled in production in the last eight years. No matter what happened in production, the inventory was kept the same. The same raw material in the inventory, as well as the inventory for the work in progress.
"For us this is a big gain because of the fact that on a square foot standpoint we save a lot of space — and obviously its better for our cash flow."
Miralis has a plant floor of 125,000 ft² but thought it was incapable of growing inside the walls. "I said to my team 'we need to figure out a way to grow without expanding beyond the walls,'" says Drapeau.
"Because walls don't bring business; what brings business, what brings efficiency is machines, is people — well trained, capable of delivering products according to the quality that we're promising."
So the company worked with some U.S.-based manufacturing consultants to help it find a way to maximize the productivity of existing square footage.
"Every year we're finding approximately 10 to 15 percent of our square footage that we can free up to make sure that capacity can be added to the plant. So for the last five years we've been able to grow from the inside while keeping a high level of job security for employees while being completely efficient."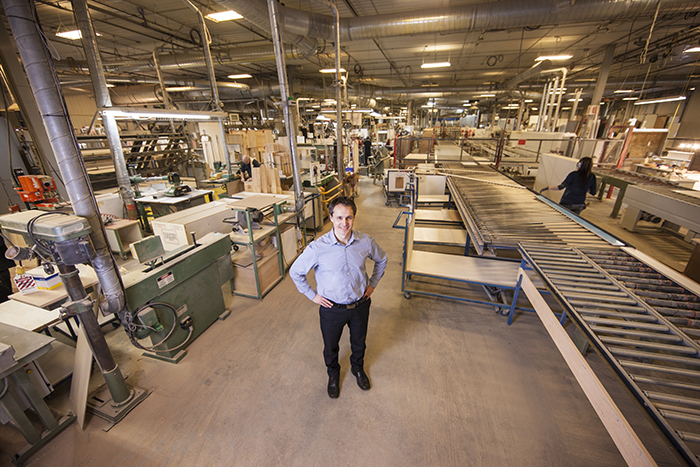 To accomplish this, for example, the company removed carts from the aisles, began more single-piece-flow operations and made sure the machines were closer together to reduce aisle gap widths. "We make sure the lines are stopping when there is a problem, in such a way that we're not stacking up things that are having quality issues during the work in progress."
Miralis has been identified as a high-potential SME (small- and medium-sized enterprise) in Quebec and in 2016 will be supported by the province's Adrenalys and PerforME programs, to help ease the transition to becoming a mid-sized business. The company is already firmly entrenched with a solid network of partner stores in Quebec, according to Drapeau.
The next step is expansion into Ontario and the Eastern U.S., a three-year campaign backed by the $8 million investment from Quebec's SME programs. With this investment, Miralis will boost production capacity through process automation and robotization, train staff to support the company culture of innovation, and increase visibility across North America.
The Miralis growth plan is designed to sustain sales growth of 15 percent per year by consolidating the company's market position in Quebec and increasing the number of partner stores in Ontario and the eastern U.S.
"With this $8 million investment, we're ensuring we have the tools to be all we can be," says Drapeau. "We have a clearly defined goal, and it is shared by each and every member of the Miralis team: to give more North Americans the opportunity to enjoy the Miralis kitchen of their dreams."
The company training provided for its plant employees maintains its product quality and production efficiency.
"In January, February and March — these three months are very important for us to train our employees so they are ready for the peak season in June-July as well as the fall," says Drapeau.
Time to market is critical in the kitchen cabinet market for new designs, so Miralis buys woodworking equipment from European suppliers and builds its own machines to differentiate its products in the marketplace.
"We have a shop with some people that are engineers capable of building machines. Our machines are competing with many machines that you buy from Germany. It's a way to differentiate ourselves when we launch new products.
"There's a product we launched a couple of years ago called Rough Chic — it is actually a 'bold innovation' that we figured out would be a trend. It's a kind of barn wood that we produce with our own wood here and we built the machine to produce this 'fake' barn wood that looks like real barn wood.
"Building our own machines means we can be quick to market and more efficient as we are quick to connect all of our machines together and to build a lean manufacturing way to work while not being dependent on European machine makers."
Drapeau explains what he means by 'bold innovation' as it applies to the new product introduction process. "We are bringing in new products every year, we even have KPIs (key performance indicators) internally to develop an evolution of at least 36 products and two innovations per year, and one bold innovation every two to three years.
"A bold innovation is something very different from the other competitors in our markets. To do that, we often go to Europe to get input on what is going on there on the contemporary side — more than the classic side — and we try to get the trends, to get a good innovation of what to bring in 2016 and also 2017. And also to find what would be the next bold innovation to bring to the market.
"So we want in some ways to be ahead of the market, follow some trend setters sometimes, but to be ahead of the competition in some ways as well.
"We do have tough regulations regarding the environment but that is probably good — if regulations are tough for us its tough for the other ones as well so its fair competition too. And the fact that we build our own machines means we are very self-sufficient; it makes us able to react more quickly when regulations are changing or becoming more restrictive."
Drapeau notes that there are many many cabinet makers making classic kitchens. "What I mean by classic kitchens is five-piece doors, moldings, carvels, things like that. On the contemporary side, its pure lines, its square, its European."
Miralis gets input from the European markets and tries to differentiate itself from classic cabinet maker competitors that are here in North America, as well as challenge the contemporary kitchen manufacturers that are less present here.
"So our competitors on the contemporary side are mostly Europeans — Italian, French, German — and we can compete head to head with these lines."
During the design and innovation process, Miralis surveys its sales partner-designers with its ideas in the form of prototypes, products that it thinks represent new trends.
"We share these designs with them," says Drapeau, because their feedback is valued.
"The designers are very good at explaining what the trends are today. On our side, we want to figure our 'what will be the trend tomorrow?'"
Miralis is succeeding in spite of — perhaps due to — its remote location.
Drapeau notes that this isn't likely to change but that broader horizons are also possible for the company. "I'd say that the reason we stay in Quebec is because I was born and raised here. But we are thinking of expanding eventually, possibly the next 3-5 years, through acquisitions outside Quebec to get closer to our markets."
Drapeau explains that his ultimate client is the consumer. "So it's usually a couple, or a lady, that is having the dream to have custom kitchen. We sell medium to high end, we're not at the entry level. To compare ourselves to the car industry, we are kind of a Lexus or a BMW."
The buying experience for the consumer involves going to a showroom partner of Miralis. "In the showroom, the consumer can share their needs with our partner, the designer," says Drapeau.
"Then the designer can show what we can do — show a brochure, show our samples — and then design the kitchen according to the needs of the consumer. Once the design is done, once the selling process of our partner designer is completed, then our partner can send us an order."
When the order is received and signed at the Miralis plant, it takes three to six weeks to deliver the kitchen, depending on the product. "So three weeks for a simple melamine kitchen, but if it is a kitchen requiring more products and process, such as if there is a lacquer on it, or more finishes, then it can take four, five or six weeks to deliver."
Today, Drapeau maintains, cabinet makers cannot differentiate themselves anymore with just quality.
"In my mind, everybody producing kitchens has to provide quality — even all of our competitors.
"Quality is about being constant, from a month to another, from a year to another our customers are expecting a level of quality that has to be constant from January to December — this is where we are working very hard.
"Yes, we have high quality standards but we are more demanding on our team, on our own company to make sure the quality remains constant."
The company has 240 employees, 200 of which are involved in plant production, and 40 in the office that are in sales and management, says Drapeau. "There are two types of (human) resources that we need to operate here.
"First, production people that we can rely on — there isn't a very large demographic pool of people (in the vicinity) but so far we don't have problems attracting and finding the right people to work in the plant. We are constantly finding a way to produce through automation and robotization as well, and our employees understand that as long as we have growth. I always say to them 'growth is health.'
"So as long we have growth we will continue to robotize but the quantity of employees will grow as well but not as fast as the revenues — everybody here understands that. We have a very good relationship with the people in the plant."
The second type of employees — the professionals in the office management — supervisors and directors, are also critical to the growth of the company. "It's a challenge sometimes to find the right people there," says Drapeau.
"One thing I'm proud to say is that our team is very young. The average age here is below 35 years old on my management team. I have staff that are under 30 that are managing hundreds of people — this is key to me because attracting people with a lot of experience is very tough, because usually these people are in Quebec City, Montreal, Toronto.
"Here I need to find people with lots of talent, the right attitude, the right values and then train them to become great managers. So far we've been really successful with this strategy. This is also differentiating ourselves as well because of being young — I'm 41 — and my team is between 28 and 44. We're all energetic, passionate and creative and still at the beginning of our career."
With age does come wisdom, Drapeau admits, when it comes to building custom machinery in-house. "We have one older person, a very talented machine designer, in his 50s, but we are looking at getting younger people to take over some of his responsibilities.
"We need to continue to build our own machines, this is such an advantage for us so there is a plan for having other people around him."