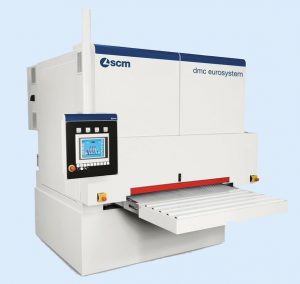 Excellent finishing results are said to be obtained when machining raw and painted panels due to the wide range of units (cross-belt, calibrating roller, sanding roller, super-finisher) that come with the DMC Eurosystem from SCM.
Combining an aggressive roller with sensitive EPICS electronic sectional pad, the working width is 1350 mm, min/max working thickness (mobile table) is 3 to 170 mm and min/max working thickness (constant pass-line) is 3 to 200 mm.
Abrasive belt width (roller unit) is 1370 x 2620 mm, abrasive belt length (roller unit) 150×5000 mm, and mat feed speed 3 to 18 m/min.