It Takes a Village… Keeping it simple and focused
Handhills Cabinets & Millwork is a Hutterite community business based in Hanna, Alberta. We had the pleasure of meeting John and Ron Wipf when they attended the CKCA National Forum in Calgary in 2019.
The company was started 12 years ago by Ron Wipf and his brother Ken. Ron has since been voted to Field Manager and has taken on other responsibilities. Ron remains available to help with the business and provide any insights as needed.
The company employs 3 full-time workers and one additional employee during the winter months. They do not currently use a dealer network to sell.
About 75% of the work they do supplies cabinet parts for other cabinet shops who do not have a CNC. The remaining 25% of business is direct to customer, either residential, commercial or to other colonies.
They have 2 Biesse Rover A1536 5'12' nesting CNCs, one has a c-axis that enables them to use aggregate which broadens the product they can create. They increased from one to two CNCs as their business grew. With a desire to produce, be consistent and versatile, the addition of the second CNC made sense and eliminated the extra time it was previously taking to switch from one product to another.
Handhills work area is 3200 sq. ft with additional storage of 2,604 sq. ft. They do not have a showroom, but they have been thinking about it for a number of years. They admit to just being too busy to spend time on it.
But customers are provided with all the information and a unique experience when meeting with Handhills.
Unique customer experience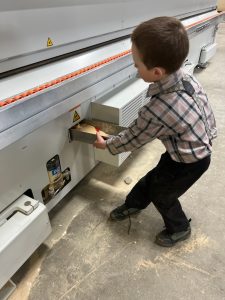 Handhills values building a good business relationship that includes trust with their clients.
Customers are invited to the
colony where they can meet in either the workshop or at the house for coffee or refreshments. We spoke to John Wipf, Manager at Handhills Cabinets. John proudly admits "I like to have customers to the house or shop on Fridays so I can offer the customers some of our fresh baked buns! And in the summer, it's even better when we have all the fresh veggies!"
This kind of customer experience would certainly be considered unique by today's standards, yet it is still a welcome feature of doing business with Handhills.
Chipping in
The strength of Handhills is clear. Their community supports and owns the business. While Ron Wipf is working in other areas of the colony, he is always accessible to provide help or insights. As John says "I can go ask Ron for a helper as all the members have woodworking experience"." But when there is seeding or harvesting to be done, we help with this work too."
For John and many others it can mean for very long busy days, but it ensures continual running of all operations.
Getting the next generation ready
As industry grapples with labour shortages and we continue to look for ways to get the next generation interested, Handhills Cabinets is already well on its way.
Learn, grow, and don't get too far ahead of yourself
The colony exposes their youth at a young age to woodworking amongst other things. There's been discussion in industry about introducing youth to woodworking between Grades 7-9, but at Handhills they bring children in even earlier. This aligns with some recent conversations being had amongst industry about introducing children in the early grades to different career opportunities. While it may seem extreme, CKCA was recently at a meeting where this very conversation was had.
John's love of children comes through as he told us how he engages his own children in the business. "I myself have been bringing my children to the shop every day". "Whether it is to sit on my lap, ask a million questions, ride the bicycle, or sweep the floor or even being in the wrong place at the right time where I have to walk around them three times before moving aside, this is where we begin training our youth". "My children are ages 4 through 12 (boys and girls), we just start them learning at an early age."
John also learned on the job. While he would have had the same woodworking skills as others in his colony, to come into the business full time was an opportunity he welcomed. As the business grew from 2 employees, they needed an additional full time person. The company purchased a second CNC and John started as the full time CNC operator, edge-banding, assembling and shipping. In 2022, he was promoted to Manager. John did not have experience on designing cabinets using Cabinet Vision or
creating a 3D video walk through or working with customers. John was mentored for 2 weeks and then took over.
Facing challenges
While Handhills Cabinets may not have all the same challenges as other companies, they admit that their biggest challenge is computer skills. "I never knew how to even turn on a computer when I flew to Toronto for CNC training" says John. "So trying to learn the drawing or designing program on the machine without knowing how computers works was a challenge". "But the younger generation seems to be pre-programmed to it."
Even with this challenge, Handhills has completed some projects they are very proud of including one for the Property Brothers (HGTV) and for Brad Pitt's house in Nevada. They also did a project for Nunavut and shipped products to Thompson, Manitoba where it was airlifted to the remote north.
In John's spare time he likes to build solid hickory old style rocking chairs and is most proud of that work.
Navigating inflation
The impacts of inflation are affecting most companies right now and Handhills is feeling it too. They have noticed they are doing more quotes than anything. But for
the portion of their business where they cut parts for other cabinet shops, they've continued to add the same markup on the material and they have not increased their machining price. They have also noticed that their loyal customers have not slowed down, plus they are finding more work from the local area.
Looking ahead— or maybe not
John likes to think that working at Handhills Cabinets provides for an easy going environment. He admits that he hopes nothing will change with that. Handhills Cabinets is not currently looking to expand.
"Maybe it's because Ron started the business and knows how our roots have been planted with all our customers" says John. "When we ask for more help Ron can pull strings and get us extra help."
When asked what John thought about the future of the industry and design trends he said "trends certainly move in circles". "The only thing about the industry we can do is pass it all along to the next guy". "I try not to look past tomorrow, I don't think its healthy."
John laughs as he says that, but we know he means what he says. A steady pace, a good working environment and a community where his children can play safely outside the home.
For John and his community, this is enough.
Sandra Wood is the executive director of the Canadian Kitchen Cabinet Association
(CKCA). Her Experience in the association world has spanned over 30 years.