interzum 2023 Trade Fair: What You Need to Know
The COVID-19 pandemic interrupted some of the greatest trade shows in the world, including interzum. Celebrating the end of social distancing and the return of the renowned event that welcomes the entire supplier industry from around the world, interzum 2023 will once again offer leading industry players the opportunity to network, learn and share their ideas. Organized by KoelnMesse Inc, the trade show will be held from May 9-12, 2023 and innovators from around the world can attend the event in Cologne. The hybrid event will offer both in-person exhibitions and discussion platforms as well as digital offerings. Interzum will have 3 Canadian companies participating, including Sigma Tools, XSENSOR Technology and Quebec Wood Export Bureau.
"At the last interzum event, we had visitors from around 150 countries. For 2023, basically, every country is coming to Cologne. We did some rework on our layout with the aim that the visitors are moving far less time from A to B, which gives them more time to spend with the exhibitors," said Maik Fischer, interzum show manager.
The new interzum event will provide the chance to revolutionize in ways never done before. Fischer explains how "one of our most important goals is to bring together the demand and supply side. Besides the buying and selling aspect, the education aspect is just as important because visitors are coming to trade shows more and more because they want to educate themselves, which is why we've invested a lot of time and effort in setting up a diverse event program which consists of three special shows, one show for each segment."
Sustainability & Neo-Ecology: interzum Themes
The first segment of the show is called Sustainability Matters which will focus on materials and nature, the second is Textile & Machinery and will higlight mattress recycling and the final segment is titled Function & Components: Furniture in Change – Shifting Boundaries. Each segment will provide attendees with a presentation of products, concepts and studies.
Fischer expands on the need to focus on a topic like mattress recycling, as Europe dumps 30 million mattresses annually, while Canada and the United States are slightly less wasteful. Canadians throw out over six million mattresses every year which goes directly to the landfill. "From linear to circular. We want to give inspiration of how the mattress industry can develop themselves from, from a linear economy to a circular economy in order to avoid waste," Fischer explained.
As for the Shifting Boundaries segment on furniture and cabinetry, Fischer stated "we want to challenge the visitors to rethink their production processes of their product and rethink what they are how they've been doing it for I don't know how many years, if that still is, is the right way. For example, if you have cabinet furniture, you always have this connection points where two sides get together. So in the kitchen industry, at this connection point, they have a little plastic topping they put on top to cover this connection. They've been doing it this like forever and no one is asking why they're doing this. If you really take a look at it from a neutral perspective, first of first thing is that you are producing plastic, so it's a potential waste object in the future which costs money, it costs oil, and then it has no function. So there's no real purpose for it besides of covering something."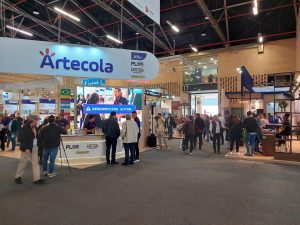 Challenging the industry's ideas and production processes is interzum's objective to promote change and work towards a circular economy. This year marks interzum's introduction of a global lead theme- neo-ecology. Based on efficiency, neo-ecology focuses on the sustainable use of resources and the emergence of new business methodologies. The second theme of choice is sustainability, as it's becoming a booming economic factor and involves the use of smart materials, upcycling, and resource conservation. Sustainability has been an ongoing topic amongst brands and global leaders for years, but what was lacking, according to Fischer, was the ability to discuss it on a global stage with like-minded individuals.
The interzum awards celebrate and honour the continuation for each segment: Sustainability Matters, Textile & Machinery and unction & Components: Furniture in Change – Shifting Boundaries. There is a digital pre-show phase from May 2 to 8, 2023 while the live event in Cologne is from May 9 to 12, 2023. Attendees can still purchase tickets for each at interzum @home | interzum and can learn more about the exhibitors at interzum exhibitors list.