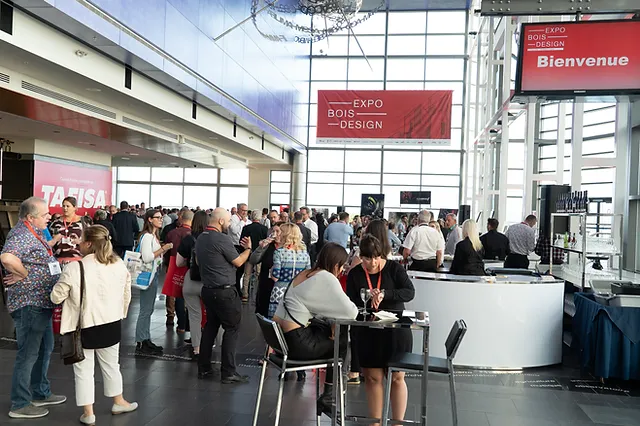 Innovate, Create, Inspire: The 2023 Wood Design Show
In an era where the design landscape is constantly evolving, professionals in the woodworking industry must remain vigilant, adaptive, and forward-thinking. It is imperative to not only stay attuned to the latest trends and technologies but also to embrace them with open arms. Now in its 8th year, the annual Wood Design Show has become a staple for architects, designers, manufacturers, and woodworking professionals seeking to explore the latest in design trends and product innovation while making valuable connections. Set against the picturesque backdrop of Quebec City, the 2023 Wood Design Show promises to be the most exciting and informative event yet, taking place on October 11 and 12 at the Centre des congrès de Québec.
A Unique Industry Experience
For nearly a decade, the Wood Design Show has been focused on bringing together the very best in the business, and this year is no exception. With nearly 50,000 ft2 of floor space featuring more than 50 exhibitors, three conference stages, and two lounges, attendees will have plenty of opportunity to explore the latest in wood design, materials, and technology. It's the ultimate one-stop shop for suppliers, clients, and prospects to meet, network, and be inspired.
Inspiring Conference Sessions from Industry Leaders
One of the highlights of this year's show is the lineup of exciting conference sessions, featuring professionals with extensive expertise in architecture, design, and trend research, representing some of Quebec's most recognized firms. Over the course of two days, attendees will have access to eight conferences, produced by INDEX-DESIGN, and sixteen exhibitor presentation on a variety of topics including:
Hospitality Reinvented: Wood's Contribution to the New Realities in Space Planning
In a post-pandemic world, space planning and design have taken on a whole new dimension. Discover how hotels, bars, restaurants, and even offices are pivoting and providing new user experiences. Stephan and Elsa, STGM Architecture Practice Leaders in Design, will share a number of inspirational case studies, showcasing lessons learned in design and architecture in this must-see presentation.
2023-2024 Interior Design Trends
Marie-Chantal Milette, founder of Kryptonie and a globally recognized colour expert promises to inspire designers and architects with this workshop providing insights into the future of interior design and trends.
Meet the Exhibitors
Several exhibitors will be showcasing their latest cutting-edge innovations as well as offering their expertise and insights on timely industry topics. One of the highly anticipated presentations entitled Wood, the Noble Choice, will delve into the ecological side of wood veneers and panels. Delivered by Jean-François Bertrand, Technical Sales Representative at Husky Plywood, this presentation offers attendees valuable insight into the various methods of cutting and assembling wood, with an emphasis on its sustainability and contribution to the fight against climate change.
Other exhibitors presenting their latest innovations will include:
An Event you Won't Want to Miss
The Wood Design Show 2023 provides a unique opportunity to connect with industry insiders, stay at the forefront of design trends, and gain early access to product launches and innovations. It is also an opportunity to hear globally renowned speakers address the most relevant and timely topics affecting the wood industry today. Whether you're an architect, designer, cabinetmaker, woodworker or manufacturer, this event is meticulously catered to your needs and interests.
Registration is open and admission is free! Visit https://www.expoboisdesign.ca
to secure your spot today.