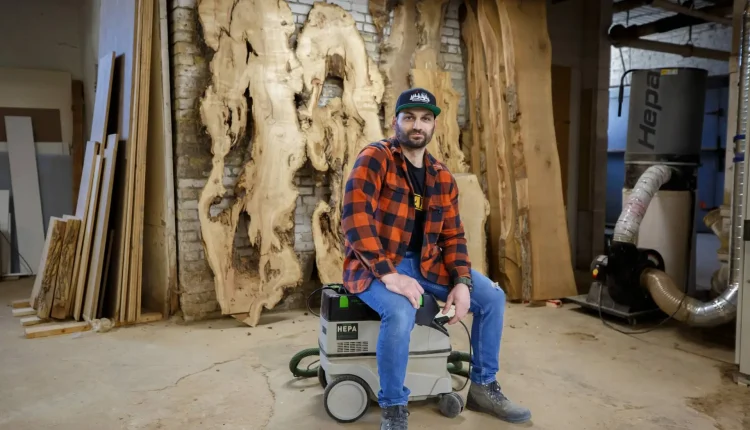 Vaughan, Ontario's Mike Liambas once dedicated his time and passion entirely to playing hockey in the NHL and AHL for the Nashville Predators and Anaheim Ducks. Although this was his career and source of pride, it wasn't his only one. After playing 12 seasons of professional hockey, Liambas's career took a halt, and he was forced into early retirement after a lethal hit by an opponent on the rink during his 2018-2019 season. This left Liambas longing for a replacement and other love to fill the void. And that was woodworking.
Throughout his hockey off-seasons, Liambas would always return to his woodworking roots solely as a hobby. He spent time designing and creating custom wood furniture and household products for his loved ones. "I was in a pretty shitty state during my transition out of hockey, and woodworking, which I'd always enjoyed, saved me," Liambas explained. It was in 2016 that he realized that this passion was not just a pleasurable pastime. Speaking with his mother in Toronto, she expressed how she hoped to purchase a wood-framed mirror for the home. Liambas, with the idea of both helping his mother save some money and having the opportunity to work with wood again, jumped at the chance to build this mirror for her. And not just the mirror, either.
The Woodworking Shop That Started It All
 "From there, I began picking up tools and supplies, and that's when my love of woodworking really kicked in," he said. In 2021, Liambas coined the name 'Nomadic Designs' for his shop with his cousin, Brent Morden, and began designing custom cribbage boards for fellow hockey players. Some of his earliest customers included the likes of Minnesota Wild's Ryan Reaves, Nashville Predators' Colton Sissons, and Manitoba Moose captain, Jimmy Ogilny.
Prior to opening up his own shop, Liambas was working with his cousin in a warehouse in Winnipeg with other woodworkers and cabinet makers. Morden participated in a challenging four-year Red Seal cabinetry course at Red River College. "We are both super-driven, hungry, and passionate people. Together we can attain anything," said Liambas on working with Morden. Once Liambas gained more experience and confidence in his woodworking skills, Nomadic Designs began designing and selling charcuterie boards, bath boards, dressers, coffee tables, and wine storage units and added these products to their shop's collection.
It was Nomadic Designs and woodworking that Liambas credits to saving his mental health as well. "Before this, I was on Century (Street), where I'd show up at 5:30 (a.m.), every day, waiting for my buddies, who gifted me space for free, to let me in. I wasn't in a good place, mentally, but having somewhere to go and keep busy did wonders for my state of mind," he noted.
Care and Patience Make the Craft
The business began to flourish and in 2022, Liambas entered into a partnership with Urban Lumber, a company that salvages diseased trees from Winnipeg by stripping the bark and making the lumber usable for re-purposing. Now, Nomadic Designs primarily uses the wood from these trees for their products. Liambas and Morden take great patience and care in their craft. "Plus, I never want to rush a project. I still consider this a hobby, even though I've invested a fair bit into tools and machinery and such," he explained. "So while it would be nice to make more money from Nomadic Designs, I never want to think of it as going to work, so to speak."
Nomadic Designs is certainly no small feat, however. In fact, the shop is roughly 2,700-square-foot shop and located on the lower level of a Winnipeg warehouse. His collection of woodworking machines and tools is wide and even includes a new CNC machine. Liambas is just getting started and has all the time to further hone his craft. "My favourite part of all this, is how we get the opportunity to join Nature with Art. This makes every single piece we create very unique to the next," he concluded.
Ellie King is the Editor of Wood Industry / Le monde du bois magazine and weekly E-digest. She has years of experience in B2B writing and editing and is empowered by the opportunity to share the marvels, pitfalls and weekly news of Canada's secondary wood industry with our readers.