Commitment, Values, and Longevity
Gravelle Woodworking's dedication to embracing each challenge without compromise
Gravelle Woodworking Ltd. is a second-generation manufacturer operated by managing director, Ben Gravelle. The company was started by Ben's father in 1981 and is now celebrating its 42nd year in business. He took the business over from his father in 2016 and currently has a team of just over 20 employees.
The company builds approximately four to five kitchens a month using a 15,000 square-foot workshop. They sell directly from their showroom which is located in Burlington, Ontario directly beside their workshop. Here they are not only able to sell the products they build but can also show their clients the manufacturing process.
Gravelle does sell to builders, but the biggest component of their business is selling directly to consumers and working on custom new builds and high-end renovations. We recently saw a post on social media of a project Gravelle Woodworking had completed. So, we reached out to ask Gravelle if he would tell us more about the project and why he is particularly proud of what they accomplished.
Proud of their Values
Canadian Kitchen Cabinet Association (CKCA): What are you most proud of about your business?
Gravelle: Our reputation in our area, our company values for the last 40+ years "uncompromising quality, exceptional service, always beautiful." I am proud that we still have the reputation for these values.
From Cabinets to Wall Panels
CKCA: You recently posted about how proud you are of the Mineral Springs Project, why?
Gravelle: The complexity of the project and the end result. Paneling an entire home with textured panels was an immense undertaking, we had to account for all the different types of reveals and how the panels would tie into our cabinetry for a seamless look. The panels were actually 8" too short to cover the whole wall so we had a bottom reveal line with a toe kick that is actually level throughout the entire 4,000 sq. ft. home.
CKCA: What parts of the project did you work on?
Gravelle: We built all the cabinetry and included Douglas Fir into a few of the bathroom vanities. We paneled the entire home, there was no drywall on the entire main floor only windows and our panel walls. We built all interior doors to match the textured wall panels.
CKCA: How did the design come about?
Gravelle: We worked with Stamp architecture on the overall design/ selections and my designer worked with the client to design the cabinetry pieces. Although I did not start Gravelle Woodworking, I did grow up in it. This has left me with a profound sense of commitment to what my father built and the core values he instilled in Gravelle Woodworking.
CKCA: What are some of the challenges you had to overcome?
Gravelle: Building novel cabinets was one of the hardest things we overcame on almost a weekly basis. Everything from designing, engineering, manufacturing, and installing completely novel cabinets. We build a lot of one and only pieces and to consistently follow through on each of those departments is an extreme challenge especially to not compromise on any of our company values.
Maximizing on Minimalism
CKCA: What are some of the features of the kitchen in the Mineral Spring project that you would like to highlight?
Gravelle: We built full height pocket doors for a finished interior pantry. Angled toe kick on the island. Interior cabinet lighting with IR sensors, Full drawer knife storage. Down draft hood. The sink and stove are both in the island.
CKCA: Given the natural spring and old growth forest that was the backdrop to this home, did the client ask for environmental features to be incorporated into the design?
Gravelle: The client was focused on natural wood in particular Douglas Fir which we used several times in creating the bathroom vanities.
CKCA: Did you learn anything from this project that you can use for other projects in the future?
Gravelle: Yes, we developed a way to install 3/4" panels with all the correct reveals as wall cladding.
CKCA: What finishes do you use?
Gravelle: We mainly use solvent-based, but we do use some water-based clear coats.
CKCA: The design for this project has a minimalist feel, are you being asked for more designs like that?
Gravelle: Yes, we are, especially walnut. I do see this increasing; I find more and more customers are leaning towards minimalism even if it isn't a full headfirst leap. The trend, as I see it, leans in that direction.
(Pictured: The Gravelle Woodworking team)
The Thing about Custom
CKCA: What are your thoughts on the custom kitchen versus the RTA built kitchen?
Gravelle: Truly custom kitchens are not just built-in pieces of furniture in your home, they are extensions of the way you live and how you experience your home. A custom kitchen is built to match your design taste, your cooking style or entertainment needs and most of all, built as the centre of your home.
Building anything custom takes an immense amount of thought for all aspects and anyone who has built a custom kitchen will tell you there is an extraordinary amount of time spent before one single cut is made to make sure your project is built to spec and will last a lifetime. Anything that is built in mass production disperses that engineering cost over many jobs while us custom shops have to bill it to one.
Looking Ahead
CKCA: Where does automation fit into your business?
Gravelle: We definitely are on this road as well. The challenges we face are picking the right project at the right time and balancing the shop as some areas automate and speed up trying to manage the workflow between departments.
CKCA: What plans do you have for the future of your business?
Gravelle: We plan to continue our lean journey in hopes of soon automating more of our software and adding another CNC.
CKCA: Any final thoughts you'd like to share about your company?
Gravelle: Although I did not start Gravelle Woodworking, I did grow up in it. This has left me with a profound sense of commitment to what my father has built and the core values he instilled into the company.
I am honoured to be in the position of leading this company and have hopes to pass it along to my children as my father did with me. Custom kitchens are not just built-in pieces of furniture in your home, they are extensions of the way you live and how you experience your home. We took on a challenge and never compromised on our business values.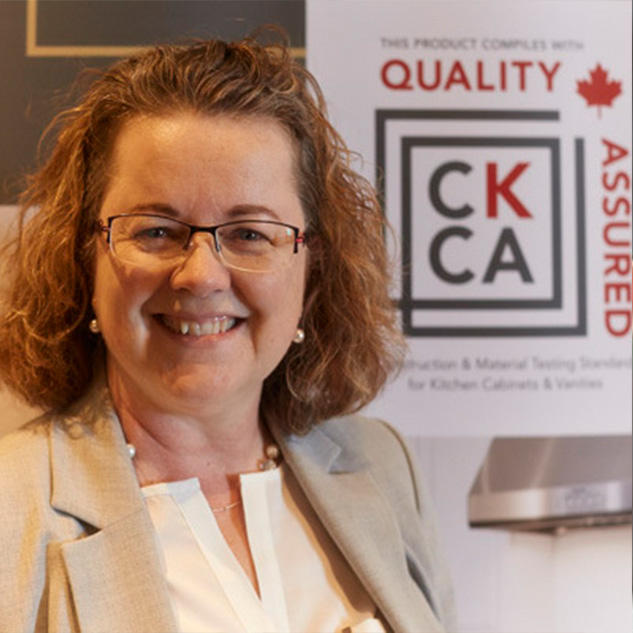 Sandra Wood is the Secretary and Executive Director for the CKCA. She enjoys "connecting the dots" and facilitating strong networking opportunities to engage members. She believes associations are about fostering strong business relationships fueled by an empathic and sound business approach.