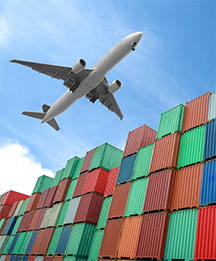 Canada-EU trade agreement opens doors
After three years of negotiations and two prime ministers, the Comprehensive Economic Trade Agreement (CETA) between the European Union (EU) and Canada has been ratified by their respective houses of parliament. But what does this free trade agreement now mean for Canada's secondary wood processing industry?
That Canada is almost exclusively an importer of woodworking machine tools has meant that tariffs have been virtually zero since well before the latest trade deal, according to Jan Backes, a 10-year veteran of international machine tool sales management in both Canada and Germany. In addition to industrial machinery coming from Germany and Italy, he points to Austria and Switzerland as locales that also contribute to the import mix in Canada.
In fact, most of the tariff lines for woodworking machinery from Europe are currently and will remain duty free. Historically Canada has not been a big exporter of woodworking technology to Europe while it sources its technology from China, Taiwan, U.S., Germany and Italy. Statistics Canada reports that the total market for woodworking machinery imports was $363 million in 2016.
With CETA, the price of machines could come down when technical standards are the same on both sides of the Atlantic. "If safety and electrical standards get closer, that can save real money. For example, molder machines manufactured in Germany require different motors for Canada. These motors are CSA approved so that's fine, but the European manufacturer doesn't buy them in the same volume and the price is different."
The issue of standards flowing from the agreement also affects the cost of spare parts, making life easier — and simpler — for European machine tool manufacturers. CETA calls for thresholds to be met at intervals over the next three to seven years.
James Johnson, Trade Analyst, Industrial Goods — Machines Italia Project, at the Italian Trade Commission in Toronto, Ont., says that it is expensive to undertake a certification process both in the EU and in Canada. "Standards and certifications are currently a very problematic issue for EU and Italian woodworking technology exporters. And to many Italian and European suppliers it is a big burden especially since safety and building requirements in Europe and Canada are similar and overall very high."
The Italian Trade Commission is often asked to assist Italian companies to locate specific standards (or lack thereof), and to explain the certification process in Canada, says Johnson.
"The CETA will definitely ease the cost of exporting to Canada. Though it will take a few years before precise guidelines and the infrastructure to support the mutual recognition of standards and certifications are in place."
A stumbling block in the past has been to allow the temporary entry of individuals for business purposes from the EU into Canada and vice versa. According to Johnson, provisions to support the temporary entry of business persons form an integral part of modern trade agreements due to the important role the mobility of highly-skilled business people plays in growing businesses and expanding trade. "The Temporary Entry and Stay Chapter of CETA addresses administrative requirements such as labour market tests or economic needs tests that can impose time delays and administrative costs on prospective business entrants to Canada or the EU," he says. "The provisions of the chapter are aimed at increasing transparency and predictability of these requirements. The obligations are differentiated in terms of their application to different types of business people, including intra-corporate transferees, investors, contract service suppliers and independent professionals — including a broad coverage of professionals and limited coverage of technologists — and business visitors."
There are also provisions for an independent professional from Canada or the EU providing a service on a temporary basis as a self-employed individual in the other party. In addition, the intra-corporate transferee is accounted for — a person employed by an enterprise of one party for at least one year who is temporarily transferred within the same enterprise to the territory of the other party.
"The provision of the Temporary Entry chapter of CETA will make the provision of technical services and assistance — as part of contractual agreements — much easier for EU and Italian woodworking technology providers," says Johnson.
The effect on distribution and subsidiaries will be improved by the removal of trade hurdles, Backes believes. "All the big players have had subsidiaries here for many years, and 20 years ago there wasn't a problem to invest in one, either. Canada is known for being open to foreign direct investments and not just in the woodworking industry. To open a subsidiary in Turkey is way more complicated than Canada, for example."
CETA may attract more investment in Canada from the smaller or middle-sized companies from such countries as Germany and Italy. "An agreement like this makes it more attractive for one of these companies to just say 'let's try it.'"
Behind the scenes, having a European bank that has a partnership with a local bank can provide a secure way for manufacturers to invest in Canada. "They know the money is protected and guaranteed," so that the subsidiary's bank in Canada has easier access to credit and can operate with a Euro account that simplifies currency transfers, says Backes.
"Free trade presents much bigger advantages than disadvantages," says Backes. "Wealth will grow." The agreement will help all manufacturers to export their product and will provide improved, harmonized safety standards, he adds.
"There is also a surprising number of window manufacturers that build in Europe and ship to Canada. Not big volumes, but high quality," says Backes, who apprenticed at a small window manufacturer.
In his experience of studying automated production in Canada, Backes discovered by comparing the hourly cost and the available hours to the country's GDP (gross domestic product revenue) put Canada "way too low." While not a good sign for Canadian productivity, it does pave the way for opportunities by machine manufacturers, he explains.
"There is potential and customers need to be convinced to automate their lines. Germany is five to 10 years ahead of Canada with automation."
As an example, Backes notes that in a typical Canadian shop there will be two people on a moulder. "If you buy an automatic return system for $40,000, you save a person. It makes no sense to have two people on a through-feed machine."
The lesson is "if others invest in automation and you don't, you'll fall behind sooner or later," says Backes.
CETA means increased competition coming from Europe, according to Simon Bouchard, president of AFDICQ, the Levis, Que.-based Quebec kitchen cabinet manufacturers and retailers' association, and president of Ateliers Jacob in Saint-Calixte, Que. "For us, it is important to keep our market competitive with Europe, and we have to change our thinking. It's kind of like the automotive market when the big Japanese automakers came in and threatened the U.S. producers. North American car manufacturers had to improve the quality of their product and become more efficient.
"In my mind, we have to do exactly the same thing."
There are about 1,000 kitchen cabinet makers in Quebec supplying the local market of $1.3 billion without much thought for Europe, Bouchard adds.
Bouchard thinks selling to the U.S. makes more sense, with his company doing business in Florida, as well as in western and other parts of Canada. "I think it's easier that way than to go into Europe." Ateliers Jacob relies on its high-end quality and custom designs to expand product sales outside of Quebec.
Economies of scale are worrisome to Bouchard. There is an imbalance in the market size with the EU having a population that is ten times that of Canada's. "With the free trade agreement I believe it is really bad for us," he says, "because we are not ready to fight back because they are so big. Unless we can scale up, I'm afraid the European companies will come in and buy up our businesses.
"In the U.S., a $200 million company isn't that large, but in Quebec the largest in our market is about $50 million."
CETA will definitely benefit Italian machinery suppliers, concludes Johnson, who sees opportunity in Europe, not just threat. "It will offer opportunities for Canadian wood processors of finished and semi-finished products to enter and expand their presence in the EU market of 500 million consumers. In order to take advantage of these opportunities Canadian companies need to change their business culture and their strategic approach to exporting.
"There are many reasons why Canadians prefer to trade with the U.S. However, relying solely on one market is risky. The EU is a large, seamless but diverse bunch of markets where Canadian companies may find their profitable niches."
Italian SMEs sell their products all over the world and it is not uncommon for minuscule Italian companies to export to countries in Asia, Africa and the Americas, says Johnson.
"Hopefully CETA will offer a first safe step for Canadian SMEs toward establishing a broader global presence."