AWFS 2023 Wood Industry Travelogue
AWFS 2023 was an amazing experience and opportunity to stay on top of what is new and happening in the industry, but also to network with industry leaders from across North America. While it might be logical and organized to write up each day of my experience in Las Vegas, it wouldn't do justice to the marathon of labor-saving machines and tools, innovative hardware and components, and pioneering software that was the week of the 2023 AWFS Fair. Hundreds and hundreds of exhibitors, many at AWFS for the first time, stretched over the 600,000 sq ft. exhibition floor in
the Las Vegas Convention Center. Many of these companies had been there for days before, transforming the space into show floors, testing stages, classrooms, and little worlds of their own creation.  It was an invaluable opportunity to see the people and technology that make the secondary woodworking industry such a dynamic force in the economy come together. Joining me on this adventure were Wood Industry Publisher, Mike Neeb, and Senior Account Executive, Sara McIntosh.
AWFS was incredibly valuable for the chance to see a number of machines and tools that I had never seen in-person before (and for the number of machines and tools that no one has seen in-person before). Some of these include the Nederman Save, which won the AWFS Visionary New Product Award in the Industry 4.0 category, or INNERGY's DESIGN software, which was announced at the convention.
Some booths were tight and effective at showcasing a few exciting products like this Fanuc Robotic arm (below), while others were configured so that convention-goers could get try the tools themselves, like I got to with a hand-held CNC machine at Shaper Tools. Microvellum equipped their space with a computer lab to demo and teach their software, while SCM had enough space to run their own woodworking shop.
It was also an honour to see so many Canadians acknowledged for their professional craftsmanship across each of the award events.
Roberto Philips of Akhurst Machinery and Abe Nafar of Boreal Architectural were both awarded Woodworking Network's 40 under 40.
It was truly meaningful to see so many Canadians being acknowledged for the quality of their hard work. We are a nation of skilled and hard-working people who place pride in the art of the woodworking craft.
It was also incredible to met and network with so many Canadians who were walking around or exhibiting at the show. We are a very dispersed nation geographically, and it was a real opportunity to meet, what seemed to me, a larger number of Canadians from the west. I also met amazing craftsmen who live local to me in Ottawa, who I might not have connected with otherwise.
I also got to see some great woodwork in and out of the convention center: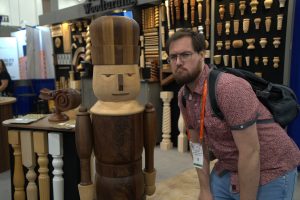 Thank you so much to everyone who made AWFS happen. I can't wait for more opportunities to see this community in action.
Tyler Holt is the Editor of Wood Industry / Le monde du bois magazine. He has a master's degree in literature and publication, and years of experience in the publishing and digital media industry. His main area of study is the effect of digital technologies on industrial and networked production.