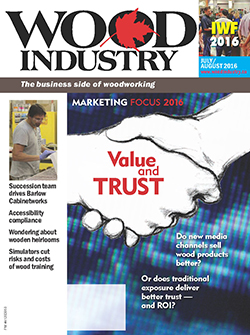 Advertising: finding value and trust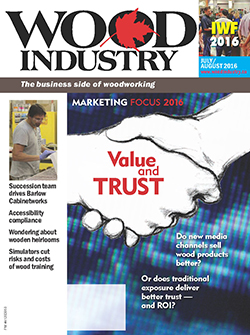 Many wood shops hum along just nicely on word-of-mouth, and wouldn't know what to do if more business came in the door.
However, there are more shops with business peaks and valleys that would rather smooth them out. Or better yet, they would like to take a step beyond survival and move on to sustained growth.
Creating your own marketing plan to spark growth is a daunting task, with many elements needing attention in the so-called "mix:" advertising in print, digital advertising, electronic newsletters, and direct (human) sales. Don't confuse your website or a Facebook landing page with marketing — that's just part of your bricks and mortar (and a discussion for another day).
But why is print advertising on the top of the list? That's the easy part. No less a reputable body than Toronto, Ont.-based Advertising Standards Canada (ASC) has indicated, in study after study, that Canadians view print advertising the "most positively" over every other medium.
ASC research just published, Consumer Perspectives on Advertising 2016, states "generally speaking, and consistent with previous studies, Canadians continue to have a favourable impression of advertising they see, hear or read." In addition, "most derive at least slight value from advertising and very few report that advertising provides no value at all," and "a majority continue to find advertising helpful with consumer decision-making."
Ads in newspapers showed that 73 percent of Canadians are either "very comfortable" or "somewhat comfortable," with them, followed closely by ads in magazines, as well as brochures, flyers or other in-store advertisements when making a purchase. Flyers you receive in the mail rank closely behind.
The worst performer for Canadian comfort in regards to advertising? Pop-up ads online have a 73 percent "uncomfortable" rating.
According to Janet Feasby, vice president, Standards, ASC, her organization is starting to see some complaints about so-called product reviews online. "Where there's a blogger or an influencer giving a testimonial, often it's in social media where it's not clear that someone supplied the product free by the company or the advertiser. So it looks like a genuine review, but really it isn't independent because the person got some compensation.
"We are looking at putting standards together so there are disclosures." For marketing a business, "print is still not just an effective way of advertising but it really does drive action and it does drive sales," according to Tim Whelan, marketing manager, Metroland Media Group of Mississauga, Ont.
"The common thread through all of this research that is being done around print is that people trust it. And I think the reason why they trust it is because content that comes through print feels more local, it feels more personal to the person reading it, and it feels more substantial."
Of course, print is not immune to shady advertising practises. "We do, from time to time, get complaints about that (ads disguised as editorial)," says Feasby. "We have a section in our code called 'disguised advertising techniques.' It states that 'no ad should be presented in a format or style that conceals its commercial intent.'"
Metroland, part of Torstar Corp., operates community newspapers and websites across Ontario. In a survey partnership with market research firm BrandSpark International of Toronto, Metroland has found its community readership this year remains very strong in the face of digital media alternatives.
When choosing a print vehicle, demographics should play a large part in the thinking of any small business or retail outlet. For example, can you get the attention of youth away from their smart phones long enough to make an impression with your print ad or flyer?
The Metroland/BrandSpark study results revealed 87 percent of younger adults surveyed between the ages of 18-35 will be reading as much or more this year, very close to the 92 percent overall result.
"We invested to find out who exactly is reading our papers, in what regions are there papers that are stronger than others, what are the demographics of the people reading our papers," says Whelan.
Getting started with an advertising plan means surveying your own marketing landscape, according to Sara Hill, president and ceo, vividata, Toronto, Ont. Her company provides a source of audience data, print and digital, for magazines and newspapers in Canada.
"Obviously you research what your priorities are, what geography and selected demographics, and you can go to StatsCan," says Hill. Statistics Canada in Ottawa releases data on the population density of Census Metropolitan Areas, as well as rural areas. Other statistics freely available from this federal government department are demographic breakdowns of populations by language spoken and other metrics.
Once committed to print, the advertiser then needs to establish if a traditional newspaper ad will work, or if flyers and brochures are the way to go. "It's one of the avenues that we measure in terms of our research," says Hill, "the impact of the flyer or the newspaper itself. We have a questionnaire that includes 'did you read the community newspaper and what action did you take?'
"We can provide the readership against a specific target like 'do you plan to renovate your kitchen in the next 12 months?'"
A sample of home renovation data generated by vividata in Q4 of 2015 shines light on what independent market research can illustrate at a local level. The study, Home Improvements Made to Principal or Vacation Home in the Past 2 Years, looked at data for homes in B.C., Ontario, Quebec and all of Canada. During the period, B.C. registered just under 18 percent of its households that either had a kitchen or bathroom remodeled.
With more data, further refinements by population — 1 million plus down to under 100,000 — could also be determined by a vividata member.
Newspaper chains such as Postmedia, that has both daily and weekly editions, and Ontario's Metroland, have experienced sales forces that can council local retailers and businesses on developing business plans, Hill notes.
Metroland uses a sales tool to collect data on spending habits in certain regions, according to Whelan. "For example, if you are building cabinets," he says, "let's assume someone is going to advertise in Oshawa this week. We can pull up a report that says 'this is the expected spend of everyone in Oshawa who reads the Metroland newspaper this week and how much they expecting to spend on custom cabinets in the next year.'"
Whelan points to the local sales people in community offices that can "have conversations with the advertisers to make sure they understand the data and they're comfortable with the marketing strategy that they're going to embark on."
Determining return on investment (ROI) for print advertising is a challenge, Whelan admits. "ROI is a kind of an elusive number that everybody wants to see. Everybody wants to know exactly, 'if I put $1 into advertising, how much am I going to get back in sales?' I think the more important approach to ROI is that your marketing strategy should be a living, breathing thing."
Hill agrees but explains that it's important to remember that advertiser and publisher are also a team and both want a successful relationship. "If you're going to spend a dollar in the (Hanover) Post, why not avail yourself of their expertise, knowing that, if it doesn't work, you're not going to spend another dollar with them?"
Successful advertising execution all about having ongoing conversations with your media partner to make sure your marketing plans suit your needs, and to be prepared to modify them over time as necessary to improve your ROI. "Marketing is not something that you do for one week," says Whelan. "It's not that I'm going to try something this week and see what happens. It's really a long process to getting the understanding of the effectiveness of your advertising. You really have to try a lot of different creatives, different types of execution, to get a sense of 'here's how often I should be advertising.'"
The prestige and quality of the print brand plays a role in the buying process, according to a study conducted by Rogers Insights, a business analytics firm in Toronto. In the Context Matters Consumer Study, a partnership with the Canadian Marketing Association, Marketing magazine and Globe Media Group, however, it was the placement of website advertising with "premium" print brands that was studied.
According to Sean Humphrey, vice president of marketing, The Globe and Mail, "a key insight from the Context Matters study is the impact on brands depending on whether they advertised on premium website — we have dubbed this the Halo Effect. All in all, the study shows us that context does matter. It revealed that premium websites contribute to a positive lift in opinion for brands advertised.
"It also uncovered that the negative effect of advertising on a less prestigious site is significantly stronger than the positive impact of a premium site. This negative impact is compounded for those in the highest income households and those with the highest levels of education."
This would seem to indicate that well-heeled customers of high-end furniture and cabinet making shops appreciate premium products in different aspects of their lives.
"Regardless of the benefits of each medium that you chose to advertise in," says Whelan, "a good marketer knows that you need a holistic approach to marketing. Now you shouldn't put all of your eggs in one basket.
"You have to try a lot of multiple mediums, see what works and what doesn't — 75 percent of our readers have actually taken action after seeing an ad in one of our papers — visiting a store, using a coupon or going to an store's website to learn more about a product."